Giveaway: Extend your screen space with DisplayLink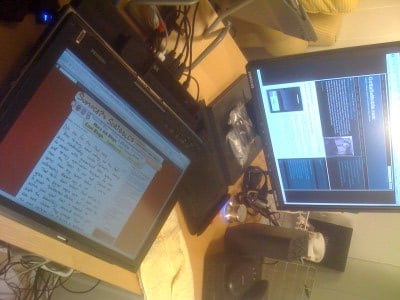 At CES, we got a chance to sit down with folks from DisplayLink, as well as some other great bloggers, and find out what DisplayLink USB video adapters can do for us. For me, it offers something I haven't been able to properly experience in years: an extended monitor on my Tablet PC. Let me share with you why that is, how DisplayLink has fixed my problem, and then give two lucky folks the chance to get one each.
First, what exactly does DisplayLink do? Basically, DisplayLink is a USB-based solution for connecting a monitor to a PC. Not usually a problem for desktop and laptop users, but smaller PCs can be pretty restricted with ports. It's also an easy way to add multiple monitors to any system.
In my case, its killer feature is being able to maintain the same orientation no matter how my Tablet PC screen is oriented. When adding a second monitor to my Tablet PC via its built-in VGA port or the DVI port on its docking station, the video orientation on both screens must match. Unfortunately, in slate mode in its docking station, my tablet is in secondary landscape. This means a secondary monitor displays upside-down. Obviously that's no good.
The DisplayLink DL-195 adapter solves that problem. It has a bit of flash memory built into it to install the necessary drivers, so the install is plug and play. Resolution is up to 1920 x 1200 or 2048 x 1152 widescreen via DVI. The monitor I'm using is limited to 1280 x 1024 and connects via a VGA adapter.
As seen in the top photo, my Tablet PC is in slate mode with display in secondary landscape orientation, while the external monitor is in primary landscape. No matter how I flip the tablet screen, the DisplayLink-connected monitor remains upright. It flickers when I switch orientation, but otherwise stays as is.
Default set up is as an extended desktop, which suits me fine. My Wacom Bamboo functions as if split across both screens. Interestingly, the narrow, smaller control area per screen hasn't been a problem. I also have a Microsoft wireless mouse as a fall back, and, of course, I can ink on my Tablet PC screen.
I'm not 100% sold on this particular arrangement. I've been typing this entry out on my Tablet PC keyboard, screen flipped up, and working on the external monitor. It's very comfortable, but I need to think about how else to use this system other than to just have a larger display.
So that's how I'm using the DisplayLink USB video adapter.
To enter to win, tell me how you would use a DisplayLink USB video adapter. Let us know in the comments, and you'll be entered to win one. Two comments will be chosen at random from all valid entries received by February 8th, 2010 at 11:59pm PST.
This giveaway is open to U.S. residents, except where prohibited by state and local regulations.
Update: Sorry for the hiccup. Somewhere between my draft and when I hit publish, everything after the jump got wiped. Should be good now.
Winners: Congrats to Tariq and Dan.

This article may contain affiliate links. Click here for more details.