Gizmodo's "Insider" Scoop on Apple Tablet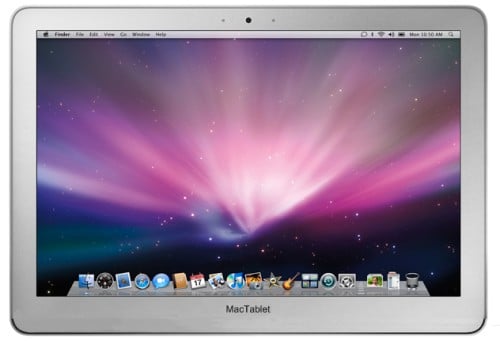 Interesting happenings going on today regarding the mythic Apple Tablet. First we see some questionable video evidence. Then Gizmodo's top dog shares a discussion with an insider contact who "may or may not have sat in some Apple meetings for the tablet." Per their conversation:
"The device, which I've held mock ups of, is going to have a 10 inch screen, and when I saw it looked just like a giant iPhone, with a black back— although that design could change at any time" they said, "with the same black resin back, and the familiar home button." That's obvious.

"But it will come in two editions, one with a webcam and one for educational use."
Nothing groundbreaking in the first bit, but a release of two editions is a new wrinkle. Other ideas were that it could be used as a secondary screen/input device for Mac and that it could be available for the holiday season. None of this is official of course and their insider could very well have been fed false info (part of Apple's crazy secrecy strategy), but Gizmodo is pretty diligent about smashing (and mocking) rumors.
On that note, I noticed a new build of Mac OS X Snow Leopard was seeded to developers yesterday, purportedly the gold master version of the OS, coincidentally right before these videos of the Apple Tablet showed up. Makes me wonder if those videos aren't just showing off new interface options and hiding them under the tablet rumor.