"Global Ready" Verizon Jetpack 890L is Available on May 24 for $19.99
Verizon has new mobile hotspot that will give users 4G LTE speeds in the U.S. and 3G internationally.
The Verizon Jetpack 890L uses Verizon's 4G LTE and 3G networks while in the U.S. and 3G data in other countries to make sure users have mobile hotspots available wherever they go. The device goes on sale on May 24 for $19.99 on a two-year contract after a $50 mail-in rebate.
The Jetpack 890L is a ZTE device that lets users connect up to 10 devices to its mobile hotspot. It sports a small OLED screen and a few buttons to give users access to the settings of the device. The screen can also show the device's data usage, making it easy for users to keep track of how much they use.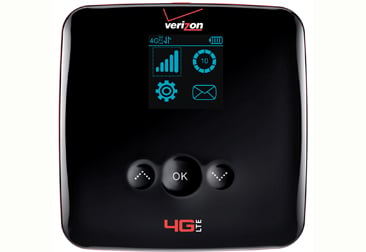 With the device users have to pay for mobile data every month for two years, and extra for international data. With Verizon's latest changes to international data plans, however, it's not quite as expensive as before. For users that need 4G LTE mobile hotspots regularly, the 890L seems like a great choice, especially with its low cost.
Unfortunately, Verizon doesn't give a battery estimate for the Jetpack 890L, but it should last for a few hours. It probably won't last nearly as long as the iPad does when acting as a 4G LTE mobile hotspot, but it's far less expensive.
There is an argument, however, that the new iPad is a better option for users that only occasionally need a 4G LTE hotspot. It's expensive, starting at $630 for the "WiFi + Cellular" model, but it doesn't come without a two-year contract.

As an Amazon Associate I earn from qualifying purchases.