Gmail for mobile adds Buzz
For all you Gmail for mobile users who have also hopped on the Google Buzz train, here is some good news.
According to this post on the Official Google Mobile Blog:
With the latest iteration of Gmail for mobile, we've worked to integrate buzz with your mobile inbox. Now, you'll see buzz in your inbox on your phone just like you do in the desktop version of Gmail, complete with the little Google Buzz icon. When you open a buzz post from your inbox, you can perform all the standard functions, such as liking the post or commenting, just as you can from the desktop Gmail inbox.

To try this out, simply go to gmail.com in your iPhone or Android browser.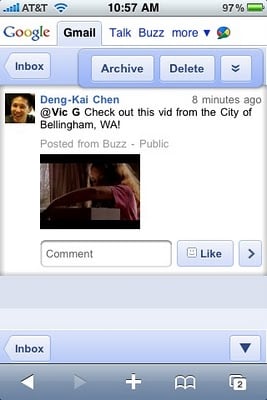 So, now you can Buzz on your smartphone just as you do from your desktop or laptop.  Thanks Google for keep up with user requests and getting Buzz on smartphones.

As an Amazon Associate I earn from qualifying purchases.