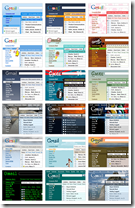 I was just granted access to the new Gmail Themes.  I am really enjoying what I see, it's great to have something a little different to look at while reading your mail.  In the past I had been using Better Gmail from Lifehacker, but now I can change it up even more.  Currently I am using the Mountains theme… cause here in the Midwest, after living in Colorado, I miss the topography!
What theme have you picked out to use??

As an Amazon Associate I earn from qualifying purchases.