GMail IOS App Update Now Allows You To Ink Your Emails Kinda, Sorta
Yesterday Google released an update to its iOS GMail App that brought new features like vacation responders, different signatures for mobile emails and scribbling. I'll talk about the scribbling part in a second.
When I posted about the App release yesterday I wasn't seeing the little gear icon that allowed you to access some of the new features or was I seeing the squiggly icon that allowed you to scribble in an email. This came after updating the App directly onto the iPhone 4S and the iPad 2. I figured Google somehow had goofed and although the problem was corrected, I'm still unsure of the behavior I saw.
The problem corrected itself after I did a WiFi sync with my MacBook Pro. This came after the App update was downloaded onto that device. Very weird.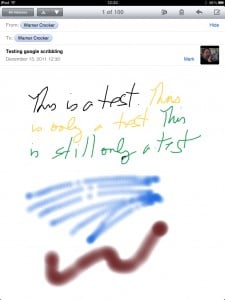 But anyway, on to the subject of this post. if you're a Tableteer who used to enjoy wowing your friends by sending them an email in digital Ink, the scribble feature might rekindle some of those memories. Although it certainly won't compare to what you can still do on a Tablet PC putting digital ink into an email.
Essentially, if you choose the scribble feature when you're creating a new email, you can "ink" out an email. Now, remember you don't have great control over any form of Inking on an iPad or iPhone screen, even with a stylus, so I wouldn't recommend sending this for serious business correspondence.
Intriguingly, when you view this email in GMail in a browser or in the iOS GMail App all you see is an icon of the attachment, unless you choose to download or view the attachment. However, if you view this in the iOS native mail App the attachment is displayed just like any image in its full glory.
At the moment this is more of a novelty than it is something truly useful, but if you use GMail or this App you can Ink off an email, assuming you won't be embarrassed by your sloppy handwriting.

As an Amazon Associate I earn from qualifying purchases.