Gmail Mobile Gets Multiple Sign-in and More
Google updated its mobile version of Gmail adding, among other things, the multiple sign-in feature that lets users sign into more than one Gmail account without having to sign out. This feature has not been available on the mobile site, only the version designed for your  computer. As a person who regularly uses and checks three accounts run on the Gmail system, I welcome this addition enthusiastically.
On my iPad it took some doing to make it work. I had to sign into one of my three accounts and at first it didn't show up so I signed out and signed back in and that time it did. You will see a box at the bottom of the list of messages on the right showing your signed in email address. Tap on the box and a pop up gives options to Sign into another account, Sign out of all accounts or, if you have signed into other accounts, you can switch to those other accounts by tapping the email address associated with the account.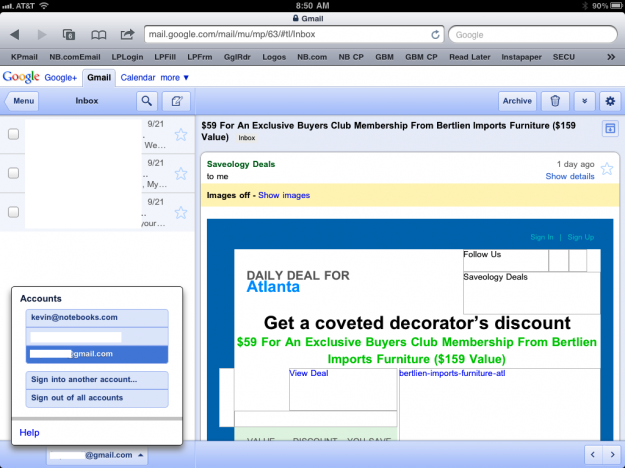 Other New Features
In addition to the ability to quickly sign into and switch between multiple Gmail accounts, you can now also create a mobile signature that is used for all email send through the mobile Gmail site and you can set up a vacation auto-responder message. Tap the settings icon in the upper right corner. It looks like a gear sprocket. It reveals a box that looks like the one below.
The first option allows you to create a mobile signature, something like the example below – "Sent from Gmail Mobile". I think a better one would be "Forgive the brevity of this message. It was sent on a mobile device." Make sure you put a check mark in the box.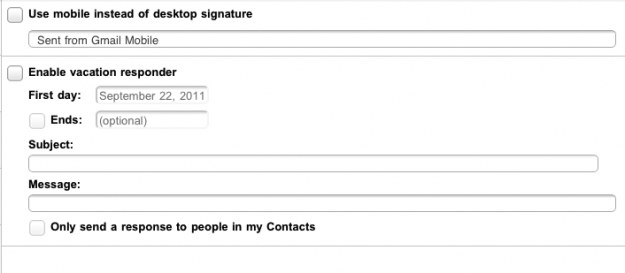 Put a check mark in the second box labelled Enable vacation responder to send a message to everyone who emails you during a predefined date range. Enter the First Day: date and the Ends: date (this is optional and you must put a check mark next to it to enable the end date). Enter the Subject and Message of the response message you want sent to all who send you email during the given period. The check box at the bottom filters the list so that you only respond to people in your Google Contacts list.