Go Paperless with Webcam Notes in Evernote
If you are trying to go paperless, one of the biggest challenges will be digitizing the paper that people still send you all the time. I've found that the built in webcam in most notebooks is good enough to handle basic capture of letters and paper I receive. Evernote makes it easy to capture right to your notebooks with a built in webcam capture.
There are scanners that will provide a higher quality capture, but for small notes and items that need remembered in brief, the webcam is good enough — and always with you. You can also use the built in camera in your various mobile devices to do similar captures, but I have found the webcam setting to be a handy addition to my paper capture.
How to take a Webcam Note in Evernote

To take a Webcam note, open up Evernote for the PC or Mac and click on the small arrow next to New Note and choose New Webcam Note. Alternately, you can press  Ctrl + Shift + W to launch a new webcam note.
You'll get a popup showing you what your webcam sees. Position your paper or business card in front of it and click Take Snapshot. You'll be able to re-take or save your note to Evernote.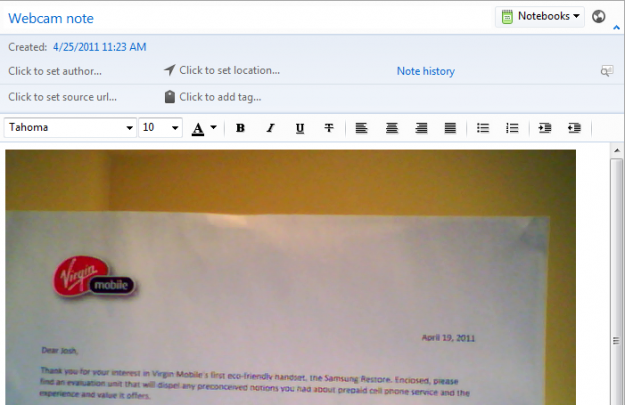 If you take a clear enough picture, Evernote will be able to OCR your image and make the text searchable. This doesn't always work with webcam shots since the angle or quality could be an issue, so I suggest you add a few key words in the title. That said, I have had pretty good luck, even with a wrinkled and angled note.
The OCR process is pretty quick for premium users, but free users may see a lag in OCR or image processing. To check and see if an image has been OCR'd look at the small magnifying glass in the upper right. If it is grey then the image has note been OCR'd if it is in color then OCR has occurred.
While we like the ability to take snapshots, we do wish we could add a quick webcam video and audio note to Evernote with the webcam function. There are times when it would be easier to record an idea, then to type it. You can use a tool like Dial2Do to get this feature, but it would be nice to be able to record a video note inside Evernote.