Gold HTC One Announced for Holiday Shoppers
The latest trend in smartphones appears to be offering devices dressed up in Gold. We're not talking about a gold-plated smartphone here, but simply a device with a gold color instead of blue or white. Following Apple's lead with the iPhone 5S, HTC released an 18k Gold HTC One for $4,000 earlier this year, and now has made something similar that's easier on the wallet.
Instead of offering an extremely limited edition 18k Gold smartphone, today HTC revealed its flagship HTC One with a nice new coat of festive Gold paint. Offering the same stunning device we've been using for the better part of 2013, only in a new color option. Originally released in Aluminum Silver and Black, we eventually saw Red and a few blue variants arrive, and now Gold is up next.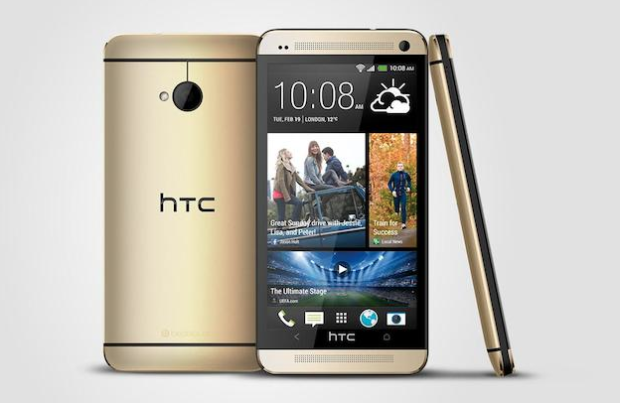 According to HTC, the newly announced Gold HTC One "makes gold the glamorous color of the festive season and a must-have for starting 2014 in style." The color is a bit different than the shiny 18k Gold model earlier this year, and instead is a softer color that is easy on the eyes, and of course potential buyers wallet.
Most likely the new Gold HTC One will come in at the same price, as there's nothing different here. Users will enjoy the same 4.7-inch 1080p HD display, Qualcomm Snapdragon 600 quad-core processor with 2GB of RAM, and Android 4.3 Jelly Bean with the new Sense user interface on board. You'll enjoy front facing speakers, a stunning aluminum uni-body shell, and that 4 Ultrapixel camera on back.
Read: HTC One Review
Aside from the eye-catching color changes this is the same smartphone we've loved for most of the year, and will just look slightly different. HTC ended by confirming its availability will start in Europe first, but didn't reveal exact prices and dates, or if it will be available in other regions.
With reports and leaks suggesting early next year HTC will be preparing a new HTC One Two (codenamed the M8) this may be a hard sell, but could potentially be one more way to pinch out a few more sales before replacing the device with the next generation sometime in early 2014. It's still a beautiful and capable device, and will soon be available in one more color.

As an Amazon Associate I earn from qualifying purchases.