Gold iPad mini 2 & iPad 5 Photos Leak Ahead of Launch
With the iPad 5 and iPad mini 2 launch event all but confirmed for October 22nd, rumors have started to fly around ahead of the big day. The latest, a pair of photos that allegedly show the iPad mini 2 and iPad 5 shells in gold, a color that has been rumored before, and one that could ultimately wind up being a new color option for iPad buyers.
Apple isn't talking about the iPad event just yet but it's clear that the event is scheduled for October 22nd thanks to credible sources that have converged on that date. The date is likely going to produce a number of products including OS X Mavericks, the new Mac Pro and two new iPad models that are being dubbed iPad 5 and iPad mini 2.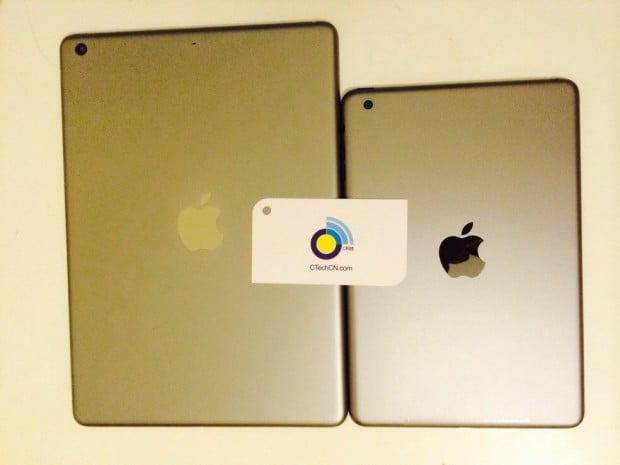 The two new iPads have leaked extensively ahead of launch with rumors suggesting a redesigned iPad 5 and an iPad mini 2 with a Retina Display. Both are thought to be coming with hardware upgrades as well including new processors and cameras. It also looks like we could see some new colors as well as we've seen space gray emerge as a color option and we're also now seeing gold emerge as a potential option as well.
Several weeks ago, we saw a gold iPad mini 2 emerge. Today, we're seeing what appear to be gold iPad 5 and iPad mini 2 shells, courtesy of Chinese language site CTechCN. The images depict gold colored iPad shells that heavily resemble the shells that we've seen leak numerous times in the past. Only this time, they are using the champagne color that we saw arrive with the iPhone 5s.
The gold iPhone 5s has been a hit across the globe and shipping times have just started to ease in the United States, shipping times that were originally pushed back to October thanks to widespread demand. It looks like Apple might try and capitalize on that demand with the iPad mini and iPad 5 as well and it could be that iPad shoppers have several options come release day.
At this point, we have to take these photos with a grain of salt but they do match up with a leak from noted Apple leakster Sonny Dickson who typically gets his hands on Apple parts far in advance.
The iPad mini 2 is expected to feature a familiar design but come with a Retina Display that will boost the resolution of its 7.9-inch panel. The iPad 5 is expected t borrow the iPad mini design, something that should lead to thinner bezels and a thinner and lighter form factor that should make the 9.7-inch slate much more portable.

As an Amazon Associate I earn from qualifying purchases.