Good Customer Service With Battery Geek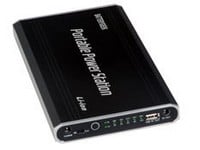 I rant quite a bit about inferior and lackluster customer service. On the other hand, I always praise companies that do right by their customers. Here's one of the latter instances.
I've been using the Battery Geek Portable Power Station with my mobile devices since last December and been very satisfied with the results. Combined with the Asus R2H, the BGPPS provides more than enough juice for me to work and/or play. The same is true with the Lenovo X60 Thinkpad Tablet PC.
Well last week something went wrong with the PPC. It no longer was charging or powering the devices. In fact when I checked the battery gauge it always showed a full charge no matter how long it had been running. I took a trip to the website, filled out a help ticket and after a quick digital conversation over a period of 24 hours was given an RMA number to return the BGPPS for an exchange. The RMA instructions are clear and precise and leave no room for misinterpretation.
The timeliness of the replies and attention to detail rate highly as good customer service. Bravo Battery Geek.

As an Amazon Associate I earn from qualifying purchases.