Good News For Tablet PC Instant Messaging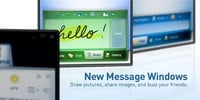 If you like to do Instant Messaging with multiple services and want to do some inking in your instant messaging there is news on the horizon. GBM Forum member Malorkus points out that the next version of Trillian (Trillian Astra) is no in alpha testing and supports ink. From the site:
Handwriting mode
Trillian Astra's message window is now compatible with standard TabletPC input methods. It also supports a special "draw" mode (service permitting) to send handwritten messages to your contacts. Even without a TabletPC, you can use your mouse to draw and send funny images; delight and amaze your friends with your incredible talents.

As an Amazon Associate I earn from qualifying purchases.