Google Adds Device and App Version To Google Market Reviews
Google updated the web version of the Android Market recently to add a couple of  features that should prove very useful to Android owners and app developers. Now each review shows extra meta data identifying the phone or tablet the reviewer is using and the version of the app they had when they submitted the review.
Very often reviewers include which device they're using in the review already, but not all do. And now they won't have to. Plus, knowing the app version will help potential downloaders figure out if an issue cited in the review has likely been taken care of.
The Market page now also includes permalinks to individual reviews for more convenient linking.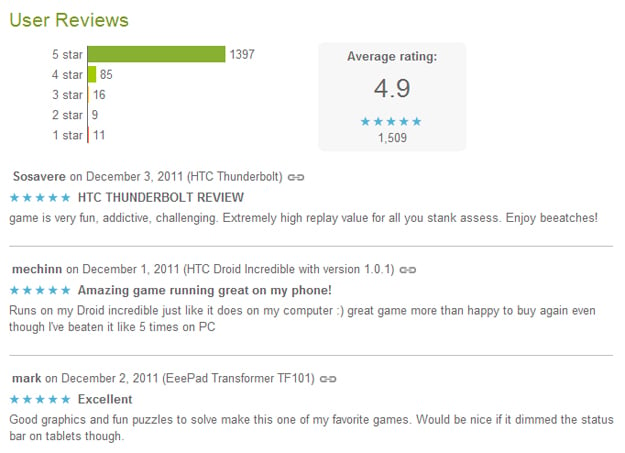 These are all great additions to the web interface and I hope they'll come to phone and tablet versions of the Market sometime soon. The more data a person has when downloading an app the better decisions they'll make about whether it's worth their time or money.
A little while ago Google also started allowing developers to add videos to their app listing so users can see how it works. I'd only add one more thing: links to professional app reviews. Nvidia does this with the Tegra Zone. As valuable as user reviews are when choosing an app, I'd also like to see reviews from tech mags or bloggers. Having the links right there on the page makes it convenient and speeds up the decision making process.
Maybe we'll see that with the next update.

As an Amazon Associate I earn from qualifying purchases.