Google Adds Tasks to GMail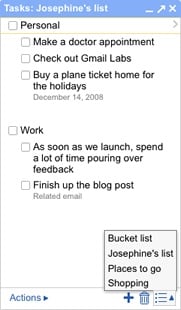 Google continues to tinker with GMail (and of late, I continue to have sporadic issues with GMail) and now they've added a module to allow you to create and manage Tasks.
Basically you click and type and add a Task and you're all set. You can add the feature through Settings/Labs (as you do with just about all of the new features that Google keeps rolling out.) Once you do, it will appear in the upper left most pane. Click on the word Tasks and you're off and running.
You can also add a Task from within an email by choosing More Actions and this associated the email with the Task.

As an Amazon Associate I earn from qualifying purchases.