Google Announces Presently: PowerPoint in the Cloud
We've known this has been coming for awhile and now it is here. Google took the wraps off of its PowerPoint-like presentation tool for the cloud, Presently. Presently fills out Google's suite of office apps (along with Google Docs and Spreadsheets) and has re-christened the entire suite to simply Google Docs. So, if you're interested in creating and sharing presentation documents on the web and in the cloud, you've now got this tool to work with. You can give it a try here.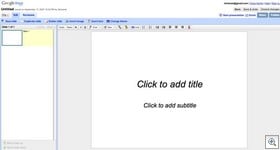 This article may contain affiliate links. Click here for more details.