Google Calendar Now Adds Option for Optional Attendees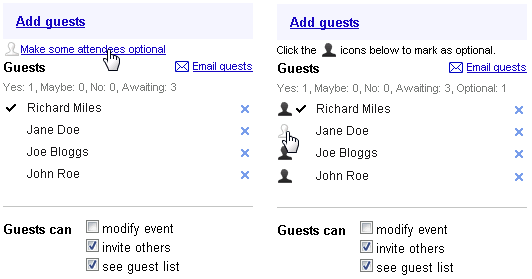 Google Calendar is quickly catching up to Microsoft's Outlook and Exchange calendaring system by now adding a new feature for inviting and viewing optional attendees on the guest list for your next appointment. The new feature  will allow for optional guests, and will begin to roll out shortly, according to Google's Official Gmail Blog.
Google says:
That's where Google Calendar's new "Optional attendees" feature comes in. With a couple clicks, you can openly communicate the importance of a meeting for each attendee. Click on the "Make some attendees optional link" above the guest list and then toggle the role of each attendee by clicking the icon next to his or her name. So far, this feature has helped us more effectively manage our own time on the Calendar team — we hope it does the same for you.
Hopefully, the optional feature will make it easy for enterprises to include everyone as necessary, but will make it easy for staff to opt out of certain meetings if it provides little relevance, value, or importance to their work. For an idea of how this may be beneficial, you can watch Jason Fried's TED Talk on work time management video embedded below:
Among the new features, guests can now be invited either as a key person, or as an optional member whose attendance won't make or break the meeting for others. Additionally, the meeting creator can give additional privileges to guests, such as the ability to invite other members, in case they know someone who may benefit or provide a benefit to the discussion on hand.
It's unclear how soon Google will also update Google Calendar's optional guest list feature available on the company' Android smartphones, which are increasingly being targeted in the enterprise space, such as Verizon Wireless's Motorola Droid Pro with its BlackBerry-inspired design.

As an Amazon Associate I earn from qualifying purchases.