Google Camera App Brings HTC One M8 Camera Feature to All
Today smartphone owners have the choice to download and enjoy a brand new camera experience on their Android smartphones and tablets thanks to the all-new Google Camera app.
This morning Google released a standalone Google Camera application to the Google Play Store for all Android devices running Android 4.4 KitKat or above, and it has some awesome new features worth talking about. This completely improves the camera experience on Android, and for all KitKat devices rather than just those with Google's Nexus 5 smartphone.
We've been hearing reports of a major overhaul to the Android camera being in the works, but no one expected it to be readily available today. One feature in particular is "Lens Blur" which is something many have been enjoying, or would like to enjoy from the new HTC One M8.
One of the weak points on Android for a long time has been the stock camera on Nexus devices. The user interface was generally quite bad, photos weren't always the best, and what we saw on our screen wasn't what actually appeared in the photo. There was more to the image than what was display.
The all new Google Camera app fixes all these problems, improved the user interface, and added some awesome new features worth talking about. Lately all the rage on smartphone cameras has been about this "blur" effect for that professional DSLR bokeh look where certain things are perfectly blurred out to focus a photo on what's important. HTC has a new Duo Camera on the HTC One M8, and Samsung's Galaxy S5 even has a "selective focus" option to try and deliver something similar.
These options allow the user to change or tweak the focus after a photo has been taken, and some of the results are quite impressive. Below is a photo of a fountain taken with the HTC One M8 using this new feature.
However, Google's just delivered an awesome camera for all Android 4.4 KitKat users, and also stole this feature from both of these phones, possibly in a manor that works better, and delivered it for everyone. It's called Lens Blur and is one feature of many of the new camera. Google's Camera app has photosphere (360 panoramas), regular landscape panorama photos, and now lens blur. This allows the user to select the point of focus, and even control how much blur effect is included.
Above is a look at the new slide-out menu in the Google Camera, and we have a neat new interface too. The settings button doesn't give too many options, but it's a start. The camera has been the basis of many complaints for the Nexus 4 and Nexus 5 for months, and this app should be addressing most of those issues.
Thankfully Google has added plenty of options for changing the resolution size (even for panorama photos) and added a grid for those wanting more professional options. There's likely more changes coming soon in the Android 4.4.3 KitKat update, but part of moving apps to the Play Store is so Google can improve key aspects of Android on the fly, rather than through major software updates only.
So how does this new Lens Blur feature work? Simply select the option from the slide-out menu, then once you take a photo the app actually instructs the user on how the feature works. There's a nice built-in tutorial, but all it takes is a slight rotate upwards to help the camera capture depth of field. Google is actually snapping multiple photos here, but only one will be displayed on your device, and can easily be tweaked using the round shutter icon after your Lens Blur photo has finished processing. Below is the same photo with two very different points of focus.
The user can select the point of focus, then change the amount of lens blur is added for the perfect amount. Give or take.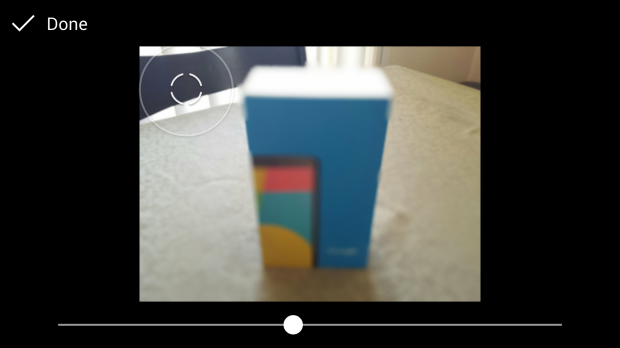 While the sample above isn't the perfect scenario, this will be extremely useful for self portraits or family photos, not to mention being able to completely change the focus point after you shoot a photo is a welcome feature for Android.
One thing worth mentioning is this requires a still subject, unlike the HTC One M8 which can do this with any photo you snap, so long as you don't have HDR or any other odd modes enabled. Trying to snap a Lens Blur photo of my puppy with the new Google Camera app wasn't possible, but I did this without a problem on the HTC One M8. Another problem is the new Google Camera has another feature missing. Previously included, but now missing in action is the "timer" option for photos.
Overall the all new Google Camera app should be a welcomed addition for all Android users, and again it's available right now in the Google Play Store for all smartphones and tablets running Android 4.4 KitKat or above. It will be interesting to see how Google continues to tweak and improve the camera experience on Android, or return missing features, and this new app is just one piece of the puzzle.