Google Chairman Talks Facebook Home, Samsung Relationship
While on stage at D: Dive Into Mobile, Google chairman Eric Schmidt said he loves Facebook Home. He also said that Google has a good relationship with Samsung, despite recent rumors.
When an attendee asked Schmidt about Facebook Home the chairman said he loves the alternative launcher because it's "what open source is about." He went on to say "It's experimentation, it's creativity." The chairman thinks that Facebook Home and other apps like it are the main reasons for Android's current success.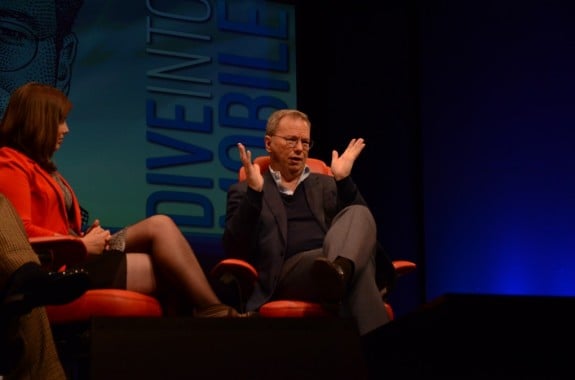 Facebook Home, like many other alternative launchers in the Play Store, replaces the homescreen and lockscreen of a user's phone. The app puts Facebook photos and status updates front and center with its Cover Feed feature. Users can still access Android beneath Facebook Home, but it makes the core experience about Facebook instead of Android widgets and apps.
According the The Verge's liveblog of the event, someone asked Schmidt about recent quotes from Windows Phone chief Terry Myerson who said he'd be "very surprised" if Google was trying to block Facebook Home. Schmidt asked why anyone would listen to Microsoft comments about Google.
Afterwards, Google Schmidt called Facebook Home a "tremendous endorsement" of the Play Store strategy. He went on to say that Google wouldn't pull Facebook Home from the Play Store.
The Google chairman also made a few comments on the company's relationship with Samsung, which some rumors claim is potentially adversarial. Schmidt says he went to South Korea many times to talk to Samsung, and that it helped to define Android in the early days of the platform.
Samsung was among the first manufacturers to support Android (though HTC made the first Android device to come to market), which helped drive the platform forward. Since then Samsung's Galaxy brand has arguably overtaken the Android brand. Samsung still uses the platform for the vast majority of its phones, but the company barely mentioned Android during the huge launch of its new Galaxy S4 flagship phone.
Some recent rumors said Samsung may choose to fork Android similar to how Amazon forked the platform for its Kindle Fire tablet. Such a move could significantly decrease Google's influence over Android's future.
Samsung may soon announce high-end phones that use its Tizen platform, which could lead to more competition to Android. It's not clear if users would want such phones, however.
As if to show the lack of animosity between the two companies, Schmidt showed that he was carrying a Samsung Galaxy S3. The chairman also carried the HTC One, Nexus 4 and the developer edition of the HTC G1 as well.

As an Amazon Associate I earn from qualifying purchases.