Google Chrome Beta Update Adds Android L Material Design
This morning, Google announced that the company's popular Google Chrome Browser (beta channel) for Android received a major update delivering tons of changes. One of which delivers the new Android L material design look to users early.
Last month at the annual Google I/O Developer event Android users and developers received their first look at the next version of Android ahead of the release for the first time in three years. Not only did Google debut what will be known as Android 4.5 or 5.0 at the event, currently being called the Android L release for now, but they even released an early developer preview.
Read: Google Play Store Gets Updated with Material Design UI
Android 4.5 or 5.0 "L Release" will introduce a completely new look and feel to Android smartphones and tablets with what Google is calling Material Design. The entire interface has been changed with smooth lines, an improved font, and an array of animations as you tap buttons or slide in and out of menus and apps.
The entire interface of Android is designed to be more simple, beautiful, and clean. Menus flow and fade in and out of your view as you swipe or scroll, taps have visual feedback confirming you've hit a button with colorful animations, and much more. Check out more of Android L in our hands-on video, then read on below to get the new Chrome Beta with Material Design.
Google announced Android 4.5 or 5.0 "L Release" (we think it will be called Licorice) at Google I/O in June, and gave users a look at the software ahead of the expected release later this fall. This is the first time in over three years Google has shown what they're working on with the look and feel of Android, and it's arrived with plenty of praise.
Currently the only way to enjoy the new Android L release with the improved material design interface is to download the official Android L preview for the Nexus 5 or 7.
Read: How to Get Android L Beta Right Now
The new Android L release preview is only available officially for the Nexus 5 and 7, but we're hearing Google could eventually release it for the Nexus 4 as well. However, this week we also learned an Android L Beta 2.0 won't arrive, and users won't be able to see improvements or changes to Android L until it's released this fall, most likely sometime in October or November.
That being said, if you want to enjoy bits and pieces of how Android L will look and feel later this year, you can now do so. The Android L Keyboard has been pulled from the developer preview and is available now for download, and linked to above is the new Google Play Store with Material Design.
It's clear that Google will slowly but surely update all their apps and services over the coming weeks and months to the new Material Design user interface, and be fully ready to roll out Android L later this year.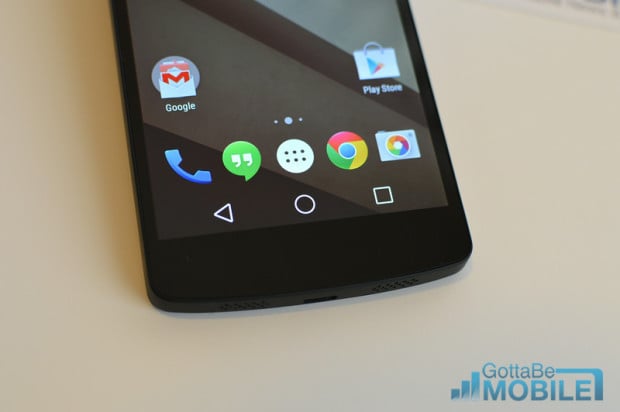 Today the official Google Chrome Browser Beta version was updated with an array of changes, but most of them users won't be able to notice at first glance. The Chrome Blog confirms Chrome for Android version 37 is available now from the Google Play Store and will introduce the Material Design interface (it looks awesome) a simplified and cleaner sign-in process, bug fixes and security enhancements, as well as major performance improvements.
The Chrome Beta is considered "unstable" by Google, but is the web browser we use on all of our Android devices simply because it always has the latest changes and improvements to Google Chrome for Android.
If you're looking to try out the new Android L material design look and feel early and don't have a Nexus 5 or 7, give the new Play Store link above a try, or download the Chrome Browser Beta from the links below.
Chrome Browser Beta Download:  Google Play Link – APK Mirror

As an Amazon Associate I earn from qualifying purchases.