Google Chromebooks vs Windows: What You Need to Know
Turning five years old this June, Google Chromebooks are now a mainstay of computing. Educational institutions love the Chromebook because it's easy to fit into their existing setups and could cost less than buying a Windows PC. Android users love them because it takes the same Google-centric experience from their phone and gives them a desktop operating system of their own to enjoy. Users of the Google Chrome Browser love it because it began life as sort-of offshoot of Chrome browser. For a while, Google Chromebooks focused almost completely on the browser window.
Chromebooks began their life as an alternative for a Windows that was bloated and ignored low-end shoppers. Windows 8 would launch a year after Chromebooks; It completely devastated the workflow of users and businesses because of changes Microsoft made to accommodate touch users. Windows hardware makers, who pay for Windows so that you don't have to, weren't able to get the prices of their machines down to the same level that they could with Chromebooks. In short order, Microsoft remedied some of the main problems. Windows 10 adds an app store, and turns off the touch interface when not necessary. Microsoft made Windows 8.1 and Windows 10 cheaper to install on small devices and dropped some hardware requirements, giving hardware partners the wiggle room they needed to get the price of their devices down.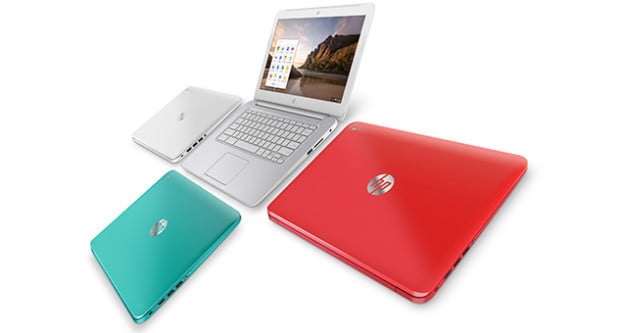 Read: Is a $250 Chromebook a Better Value than a $350 PC?
Google Chromebooks vs Windows: Why You'd Want One
The jest of Google Chromebooks is simplicity. Think of all the things that you'd do on a Windows notebook and all the maintenance that goes into it.
For fans of Android, Google ecosystem integration is key. As of today, Chrome OS enjoys native apps for many of the same experiences that are available on Google's mobile operating system. Google Play Music and Google Play Video have apps to replace the companion web browser experience that you'd use on Mac OS and Windows. Chrome OS syncs your browser history with the Chrome Browser on your Android device too. Your music, pictures and documents are stored on cloud storage utilities. Really, it's the promise of simplicity.
There's also the promise of simplified management and apps. Chrome OS isn't used by that many people today. Windows makes a prime target for hackers because of how popular it is. There's no virus program to keep constantly updated and no threat that someone will use a plugin to get into your system. If you're only browsing the web and checking emails, you could get by with a less ambitious portable.
Windows is more likely to get a virus and only has web apps for Google Play Music and more. On the other hand, it's the world most popular operating system by far. There are millions of Desktop programs to download and games to play. These programs range from tools to change the metadata on music to sprawling ecosystems for creators, like Adobe Creative Suite. Microsoft has responded to the free software offerings of the Chromebook with promotions of its own. Many tiny PCs come with OneDrive storage and a year of Microsoft Office 365.
Google Chromebooks vs Windows: Hardware & Price
Its integration with all things Google is a major reason to consider a Google Chromebook. Another thing that you should take into consideration is price. Chromebooks are cheap. There are some that you can purchase for less than the cost of a single smartphone down payment.
Acer, Asus, Lenovo, HP and Dell all make Chromebooks. The cheapest of their lot is the Asus Chromebook C201, which sells for as little as $169.99. If you're looking for a Chromebook at this price, you'll want to keep your eye on screen-size and internal storage space instead of processing power. These machines are perfect for checking emails, writing in Word and enjoying videos on YouTube. Even light photo editing is okay. These tiny notebooks form the basis of a huge Chromebook ecosystem.
At the other end of that spectrum are high-end Chromebooks. Google designs and sells its own high-end machine called the Chromebook Pixel. It's meant as an alternative and Google-centric competitor for the MacBook Air and Microsoft's Surface Book, both of which act as a showpiece for their own operating systems. The ChromeBook Pixel starts at $1,299.
Read: 5 Best Chromebooks Available for 2016
There are other hardware form factors too. Chromeboxes allow you to reuse a monitor, speakers and keyboard from your current desktop setup. The $85 Chromebit can turn any display into a PC.
Compare these prices to cheap Windows devices and you start to see a trend. Dell's 3000 Series Windows 10 2-in-1 comes dangerously close to being a direct price alternative to a Chromebook. The HP Stream 11 starts at $199.99 and includes Office 365 Personal and a free cloud storage. Microsoft's hardware partners are lowering prices for entry devices, but those prices still aren't as low as with Chromebooks.
Read: $199 HP Stream Notebook Reveals How Chromebooks Will Die
Google Chromebooks vs Windows: Which Should You Buy?
Unlike most technology decisions, deciding whether to purchase a Chromebook over a Windows PC is a pretty straight forward process.
If you're already using an Android phone and want a notebook that is just as simple to operate as it is, definitely consider a Chromebook. Just know that Desktop games and programs that you're used to seeing on Windows won't be available. Chromebooks are for those that take a less is more approach to computing. I suggest trying a Chromebook in a store like Staples or buying from an online retailer with a decent return policy. Give yourself some time to find out whether Chromebooks are for you.
On the other hand, if compatibility with your existing programs and games is important to you then stay on Windows. Also, if you tend to not use Google's apps and services, staying on Windows is a better idea for your needs. You can try out the form factor with the HP Stream 11. You get to keep your programs, still have access to Google services and won't need to learn the quirks of a new operating system. You can install the Google Chrome Browser and its extensions to improve your experience.

As an Amazon Associate I earn from qualifying purchases.