Google Cloud Connect: Google Docs Meets Microsoft Office
My friend Shan Sinha announced that Google Docs will soon be able to edit and share documents directly from Microsoft Office. If it sounds counterintuitive  to you, don't knock it until you try it. The features are based on the code that Shan's team wrote while running Docverse, a startup that was acquired by Google earlier this year. The solution is now in the process of being productized by Google as Google Cloud Connect.
Google Cloud Connect allows users to create and synch documents without leaving Word, Excel or PowerPoint. Multiple users can edit the same document at the same time as there's versioning and conflict resolution built in.
Editing documents in Office is still a much richer experience than editing them in a web browser. While geeks might be comfortable trying new things, like web-based office suites, there are millions of workers that have spent their entire careers living inside of Office. Good luck prying Office out of their hands.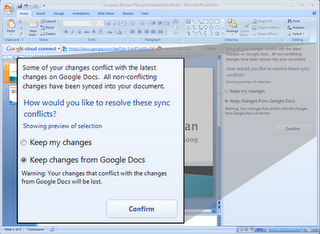 Google Cloud Connect offers organizations the best of both worlds. Those who enjoy using Google Docs in the cloud can share and co-author documents with their colleagues that prefer using Microsoft Office.
For now, Google Cloud Connect requires Windows and Office 2003, 2007 or 2010. A lot of Google employees use MacBooks and I assume that the team is going to make Google Cloud Connect Mac compatible in the near future. Google Apps for Business users can apply to join the preview program here.