Google Daydream View vs. Samsung Gear VR 
With the smartphone market now maturing, every major company that has its hands in making the tiny computers is starting to experiment. They're looking to get an early start on where they think user interest will drift after they're bored of the mobile computing revolution and haven't purchased a smartwatch. Google and Samsung, like most other firms, are betting heavily on virtual reality headsets. Their entries are the Daydream View and the Samsung Gear VR
The two companies are taking very similar approaches but playing to different strengths. The Google Daydream View is rooted in Android's dominance in smartphone software. The entire Daydream experience relies on the device paired with the headset and the controller. Any handset maker can create a Daydream-ready headset. The Samsung Gear VR uses the technology of Oculus to bring virtual reality to modern Samsung Galaxy smartphones.
Here's how the Google Daydream View and the Samsung Gear VR compare.
Google Daydream View vs Samsung Gear VR: Design
For Google's Daydream ambitions to be a success, the company knew that it had to make its own virtual reality headset. The Daydream View is a reference design for any company that wants to make their own headset. It'll also stand as a proven device for those that don't trust Android device makers to offer the best experience.
Read: Google Daydream View Release Details
Two things are key to the Daydream View design: compatibility and comfort. The eyewear and headset are made up of a textured fabric, with foam padding. A flap on the front of the device folds down to reveal a slot for users to place their smartphone. That area also acts as a holder for when the headset's included remote controller isn't in use. Users simply place their Daydream compatible smartphone in the slot and NFC technology activates the Daydream experience automatically. The part of the device that sits on the user's face can be removed and washed by hand.
Because Google wanted to air on the side of simplicity, all the hardware necessary to run the virtual reality experience for Daydream is built into compatible phones. There are no connections that need to be made between the headset and the phone.
In contrast, Samsung took a very, very different approach for the Gear VR. It makes use of the display and sensors inside each phone, but has its own ways for users to interact with it. Also, it needs to be physically connected to a compatible headset through USB.
Because it's a device with actual hardware inside, the Gear VR weighs 318 grams before users ever put their smartphone in it. By comparison, the Daydream View only weighs 220 grams. As you're going to need to move your face while wearing these, lighter is better. It makes the experience feel more natural.
Read: Samsung Gear VR: What I learned on the First Day
The Gear VR's plastic shell folds down so that users can put in their smartphone.
One thing that the Gear VR has on the Daydream View is the natural way that users interact with it. The device knows that its being worn because it has a proximity detector. The same technology keeps modern smartphones from detecting screen taps when users hold them up to their head. IMU technology inside the device allows for fast movement detection. Samsung maintains that this allows for less delay than headsets that depend on a phone's internal sensors
There is no mandatory controller to hold in your hand with the Samsung Gear VR. There's a back button and touchpad built into the device for easier navigation without extra accessories. There are built-in volume buttons too.
The controller included with Google Daydream VR communicates through the user's smartphone with a Bluetooth technology. It's got a directional pad and 9 motion sensors. You charge it through a built-in USB Type-C port.
Both options support external controllers with more complicated button layouts for less casual titles.
Google Daydream View vs Samsung Gear VR: Apps, Games & Video
Neither the Google Daydream nor the Samsung Gear VR will be successful without decent software experiences.
Google hopes that app developers will create Daydream specific experiences that it can load into the Android App Store for everyone that has a Daydream compatible headset. In this way, Daydream is no different from regular Android. The focus is on games and video right now. Hulu, Google Play and YouTube will all have applications for Daydream. Digital mini-gold and a Harry Potter Wizarding World experience are just two of the things it's shown off.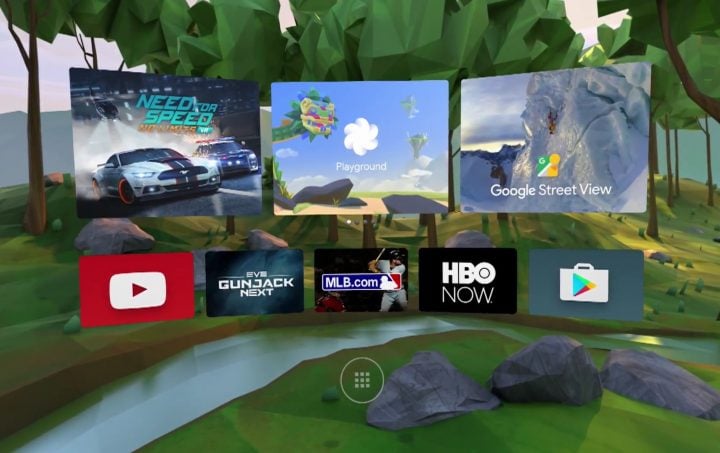 Read: Android Daydream 3 Things to Know
Smartly, Google will bring its own apps to Daydream too. For example, Google Map's Street View technology will let users virtually visit their favorite destinations.
The Samsung Gear VR has its own dedicated app for consuming 360 degree video. The headset owes its early advantage in available games to Samsung's decision to announce the device before it debuted for users. EVE: GunJack and Bomb Squad are pretty interesting. What really excites users is Minecraft. It's available right now.
Both platforms hope that developers will extend their ecosystems over time, but that remains to be seen. Theoretically, Google's DayDream platform has the biggest opportunity to attract developers because it could be available on millions of different smartphones from a wide range of companies. That being said, Samsung is the largest seller of Android smartphones by far. That should help give it some leverage with developers.
Google Daydream View vs Samsung Gear VR: Compatibility
For now, Google Daydream View is a device without a robust ecosystem. Google maintains that developers of Android phones will have supporting headsets out soon. For now, the recently announced Google Pixel smartphones are the only Google Daydream View headsets available.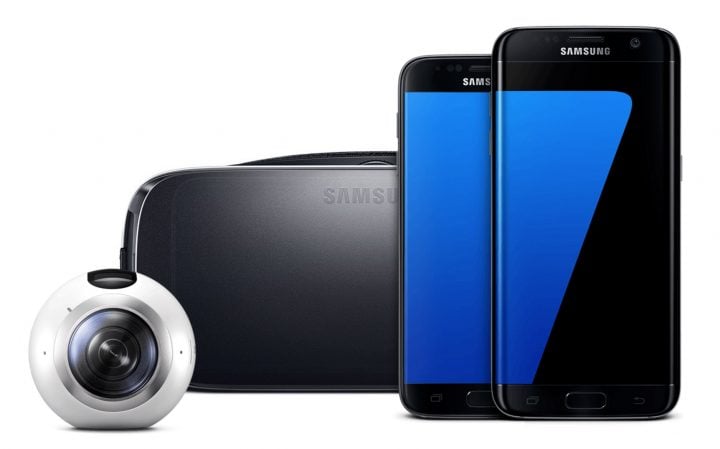 Samsung has had some time for its ecosystem to mature. What started out as a device only compatible with the Galaxy Note has grown. For now the Gear works with the Samsung Galaxy S7, Galaxy S7 Edge, Galaxy Note 5, Galaxy S6 Edge+, Galaxy S6 and Galaxy S6 Edge. Only the Samsung Galaxy Note 7 isn't compatible with the headset. That's because it is no longer being sold in stores due to overheating.
Google Daydream View vs Samsung Gear VR: Which Should You Buy?
For right now, choosing between the Google Daydream View and Samsung Gear VR headset is straight forward.
The Gear VR has a bigger ecosystem and is available for purchase right now. It's $99.99, but you're getting a premium experience that has apps and games and works today. Of course, you need a compatible Samsung phone so that has to factor into your buying decision.
The Google Daydream View will certainly be a huge contender in the future. It's got the potential for more apps and games, plus compatibility across Android device makers. It's lightweight frame and $79.99 price tag are great too. Problem is, the only phones that are compatible with it in the near term are either $699 or exclusively available on Verizon.
The Google Daydream View doesn't launch until November.

As an Amazon Associate I earn from qualifying purchases.