Google Drive Caught on Camera
Google Drive, Google's rumored Dropbox-like service, made a brief appearance on a developer's phone today, a sign that the online storage and syncing service might finally be ready for a public launch.
The Verge spotted an icon for the device during a Android Developers Hangout. While showcasing an app's sharing features on a Samsung Galaxy Nexus, a triangular icon appeared as one of the options with what appears to be the word 'Drive' next to it.
The video where it appeared has since been made private.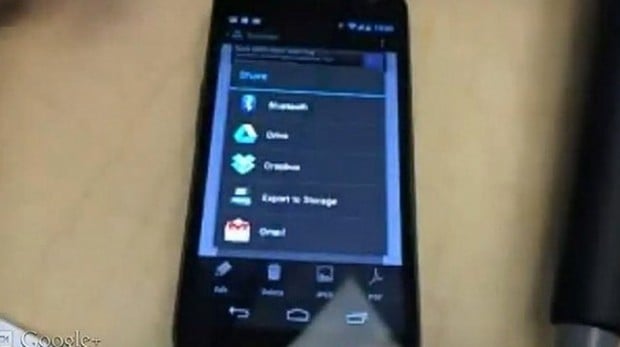 While this doesn't necessarily mean that a launch is close, it does seem to point to it as being a distinct possibility.
It also helps that earlier this week, we heard that the service would finally be launching next week, possibly as soon as Tuesday or Wednesday.
Google Drive is rumored to be launching with 5GB of free storage space for Gmail users. If true, it would mean that Google's service would offer 3GB more cloud space than Dropbox which offers 2GB free.
Users will also apparently be able to buy more space if the allotted 5GB is not enough.
The service is said to work on both Windows and Mac devices and that it will work in "desktop folders." It's assumed that this means that Google Drive will upload and sync folders on users computers and then those folders would become available through the service on devices like laptops, tablets and smartphones.
The fact that the service has appeared on an Android phone is a good sign that there will be some sort of tie-in to Google's mobile operating system and there is also a good chance that Google+, Google's social networking site, will play a role as well.