Google Drive To Launch Next Week with 5GB of Free Storage
Google Drive, a new online storage and syncing service for Google users could launch as early as next week with 5GB of free storage for Gmail users.
Google Drive has come up a lot in the past few weeks. There's been leaks from potential partners and rumors about what the service will include.
According to The Next Web, Google Drive will debut next week, possibly on Tuesday or Wednesday. The service will offer 5GB of free cloud storage space, which is 3GB more than Dropbox currently offers free users. Users will also be able to buy more storage in case 5GB just isn't enough.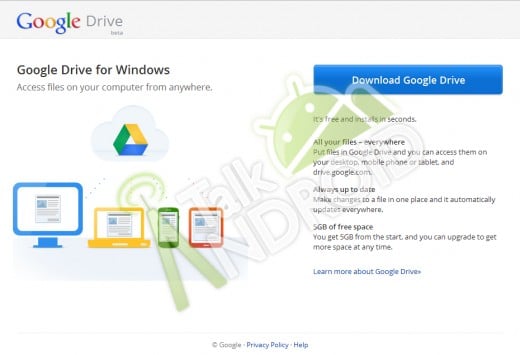 The service will work with both Windows and Macs "in desktop folders." It's not clear exactly what that means, but it could mean that Google Drive will upload and sync folders on users computers. Those folders would then be available through the Google Drive service on desktops, tablets, and smartphones.
Given that Google Drive comes from Google, we also assume that the service will have some ties to Android and possibly Google+.
The exact date for when the service will launch is unclear, but Tuesday and Wednesday are good guesses because Google and other tech companies tend to launch new products or services on these days.
If Google Drive does offer 5GB of free cloud storage, that could mean trouble for Dropbox which only offer 2GB for non-paid subscribers. Dropbox also doesn't have the partnerships that we assume Google will have with Google Drive.
Dropbox, Box.net and other cloud services could face a huge challenge next week, and may need to increase offerings and change strategies to compete with Google.

As an Amazon Associate I earn from qualifying purchases.