Google Field Trip Helps iPhone Users Find New Interesting Places
Today Google released its Field Trip app for the iPhone, giving Apple fans a new, easy way to discover new and interesting things around them.
The idea of Google Field Trip is to help users find new and interesting things and places either in a city they're visiting or their own city. The app pulls data from a number of sources to show the most interesting things in an area based on what the user tells the app they're interested in.
The app breaks down interests into seven categories, each one with its own color so users can see interest points by category on the map. The seven areas of interest are: architecture, historic places & events, lifestyle, offers & deals, food drinks & fun, cool & unique and art & museums.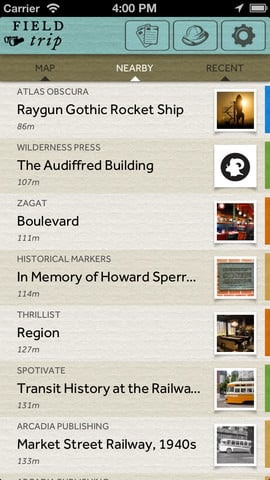 Users can then break those categories down by source. Each category collects data from a variety of sources that users can manually unsubscribe to. For example, a user can choose to unsubscribe from The Worldwide Guide to Movie Locations in case they don't want to see every movie location nearby. It's especially handy it cities like New York that are the location for many movies.
Google Field Trip can alert users whenever they are near a location by constantly monitoring the user's location via GPS. Users can choose to have the app mention notable locations often, only occasionally or not at all. No matter what the user sets, the app will also show nearby locations on a map when the user launches the app.
Thankfully, because the app is from Google, Field Trip uses Google Maps instead of Apple Maps.
Once the user find an interesting location they can save it for later by marking them as favorites it or share it with their friends via Google+, Twitter or Facebook.
The app seems great for travelers, and it's also an interesting app for anyone who is new to a city that they know very little about.
Google Field Trip is currently free in the iOS App Store, and is also available for free for Android in the Google Play Store.

As an Amazon Associate I earn from qualifying purchases.