Google+ for iPhone Adds Instant Upload for Photos
Google's social network isn't exactly the busiest one at there, but Google is working to make it better with constant improvements. The latest improvement is for the Google+ iPhone app, which brings in some features that have been on the Android app for a while. Those features include Instant Upload, the What's Hot stream, and the ability to see who +1'd each post.
Instant Upload has been a part of the Google+ Android app since it first became available. It automatically uploads all the photos and videos taken on your device to Google+, adding them into a private album. You can use it to store your photos privately, or make them public to the few people you know who are still active on Google+. It's a great feature to have, even if just for backing up photos.
Google thought it was so great that the company recently made a commercial to show it off. On the iPhone you do have iCloud, which makes this feature less important for recent photos, but older photos that may have been pushed out of iCloud Photo Stream will always be there in Google+ thanks to the app update.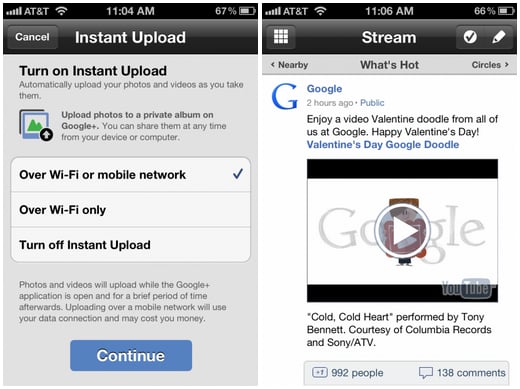 The new app update also brings along the What's Hot stream that was added to Google+ a few months ago. The stream is essentially the same as Trending Topics on Twitter. It's a stream where you can see the most popular statuses on Google+ so you can see where all the activity is. If you haven't seen the stream before, it's mostly populated by tech journalists, Google employees, and celebrities.
The last feature is the ability to shake the iPhone to send feedback to Google. It's handy, but it could be frustrating if you use the shake to undo typing feature on the iPhone. Thankfully the shaking feature is easily disabled in the app's settings.
It's nice to see that Google is bringing the iOS app to parity with the Android app. The iOS app can't have the deep OS integration that the Android app can, but at least Google is bringing the features that don't need deep integration. If nothing else, this update could be nice to have on your iPhone just as a redundant photo backup. It's not likely that Google is going to get rid of your Google+ photos any time soon, so you might as well take advantage of the free photo storage, just make sure you only upload over WiFi if you are on a limited data plan.
Via: The Next Web

As an Amazon Associate I earn from qualifying purchases.