Google Glass Classic Shades Hands-On & Unboxing Video
Nearly a year after the initial release and Google is still trying extremely hard to make its wearable computing device known as Google Glass more stylish. They're doing so by offering four prescription frames and three sunglass shades for those interested. So we snatched a pair of the Classic Wayfarer style.
Last week Google announced and released the titanium frames for corrective lenses, as well as two additional shades to allow users to wear Google Glass with style, with prescription lenses, or while outside enjoying the sun. They come at a price, but Glass Explorers and consumers alike will want to see what Google has in store for when they release these smartglasses to the general public later this year.
Lets face it. Wearing something like Google Glass on your face certainly screams out some sort of nerdy vibe, but it has been quite the conversation starter for users like me wearing it around town. With Google inching closer to a release they're finally taking on the "nerd-look" by releasing these shades, but this is only the beginning.
While we can't say what Google has in store, nor do we know if the consumer release of Google Glass will look anything like what you're seeing here today, it's a step in the right direction to make wearables something users will actually want to wear.
We chose the Classic shades, but Google's also offering an active option shown in the video above, as well as a more modern style that isn't so boxy. The box is quite small, and for $150 you really don't get much considering these stylish shades with gradient lenses can only be worn with Google Glass. In fact, they cost more than my actual Ray Ban Justin's I wear daily.
Out of the box we simply have a nice set of lightweight yet durable clip-on shades in the form of the front fascia of sunglasses. The frame of Google Glass remains the key aspect, and these simply attach to the nose-bridge for a secure and comfortable feel. They feel pretty cheap, to be honest, but again this is the initial release and we're expecting packages, as well as actual pricing to drop once these become a commercial product at the tail end of 2014.
We were hoping the shades would come in the same durable and lightweight titanium frames as the prescription series, but there's a certain balance of weight that needs to be taken into account considering all that goes into this wearable device. Overall the plastic still feels nice, and doesn't interrupt the weight distribution of Glass.
However, we did notice the little plastic nose support pieces don't fit as secure, as the frame of the shades hits my face or cheek and loosens the grip, but that's likely to differ from user to user.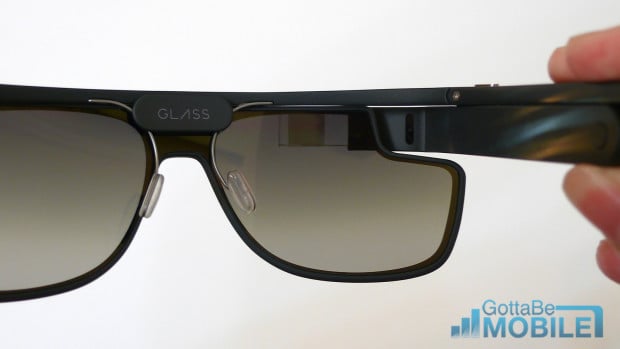 Overall thoughts? I'm pretty impressed. The dark gradient lens doesn't cause any problems with seeing the heads up display flashing navigation instructions or incoming messages to your eye, and it actually makes it much easier to see outside, for obvious reasons. While we probably shouldn't test our luck by driving with them, I'll be sure to give them a try all week long and report back with more impressions. Oh, and I look much better wearing these, if I don't say so myself.
We're expecting a late late 2014 release date of Google Glass. Not to mention we'll probably see some design changes, more options and accessories, and of course a much lower price point. These shades are already sold out from the Glass Store, but expect more to arrive shortly for those interested.