Google Goes "Instant" With Search Results
Google, aiming for speed, has unveiled Google Instant. From my early testing, it is pretty darn fast. Essentially, as you begin typing in a search query Google displays the results on the page. This is only available in the US at the moment and only from the Google home page, although it is promised to be baked into browsers later this year. There is also a promise of it rolling out for mobile (read Android) later this year as well.
As a couple of examples, if you type the letter "w" you get local weather results below search box. Type Warner and you'll begin to see grayed out letters that are predicting where you might like to go. The idea here is to save time by predicting your intent. I typed in "augmented humanity" and got results on Eric Schmidt's comments from IFA. I'm guessing the more Google gathers about us the more predictive it will become. I'm also guessing that this means results will eventually become more and more unique to the person doing the typing as long as you're logged in. We've had Google predict what we're going to type for sometime but now you can also scroll through those predictions to see what results they might yield as well.
The blogosphere is going crazy right now dishing out quick analysis of Google Instant, and from what I'm reading it is all a bit too instant to really draw any conclusions beyond the fact that what Google has unveiled is new, fast, and different than we were just a short time ago. There's a video released by Google below with what they're up to.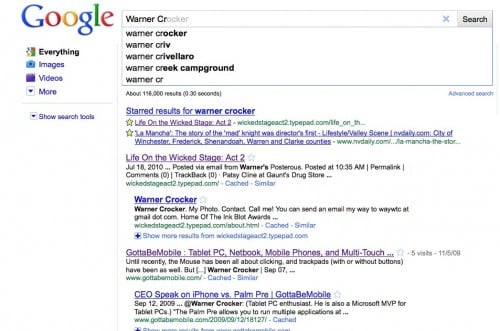 https://www.youtube.com/watch?v=ElubRNRIUg4&feature=player_embedded