Google Hangouts adds SMS Support, Location Sharing, and More
While most users have been paying attention to any and all details surrounding Android 4.4 KitKat and the Nexus 5, Google's been busy working on more than just that. Today's Google+ event kicked off, and while some have speculated about the Nexus 5 being revealed, Google's started with its social network, Google Hangouts, and photography.
Today Google announced 3 major new features for the popular Hangouts service, many of which we've been patiently waiting for. One in particular is SMS support and integration, which is a rumored Android 4.4 KitKat feature, as well as much more. Vic Gundotra took the stage to announce SMS integration, location sharing, animated GIF support, and full-size HD video for streaming and live video.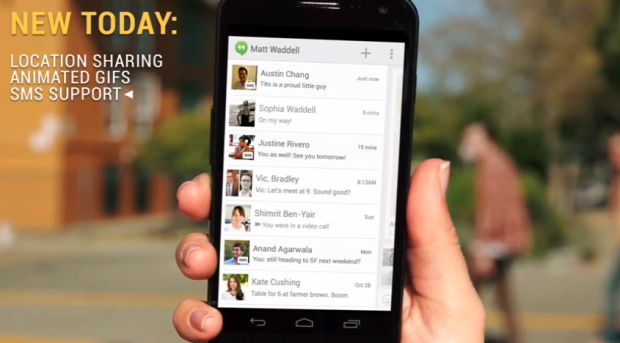 Earlier this month we received some leaked screenshots confirming Google Hangouts would integrate SMS support, making one app do all the communication on our mobile devices, and now they've confirmed it's actually happening. Sadly Google didn't share too many details, but we'll be on the lookout for an update to arrive in the Play Store. Likely this won't arrive until the Nexus 5 and KitKat drops, which is expected to be the 31st.
Google Hangouts will work for chat, text sms, and video calling. Google didn't specifically mention MMS (picture messaging) support, but we're hoping that will be included, or arrive in an upcoming update to the application. Then, since we can't test that yet, we'll move on to the other announcements. We also have the ability to now share location details with friends, family, or whoever we're chatting with. In Hangouts we'll now have the all-familiar "share location" option, in which Google Maps will use to share our location down to the spot.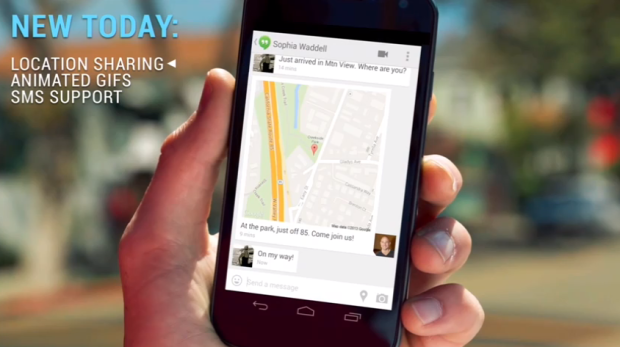 Sadly there was no mention of Google Voice integration, which as we all know arrived on iOS recently, nor was there actual calling integration of any sort. We're expecting Google Hangouts to be able to make calls, texts, messages and more in the near future, and maybe that's being saved for the KitKat announcement in a few days. We'll have to wait and see.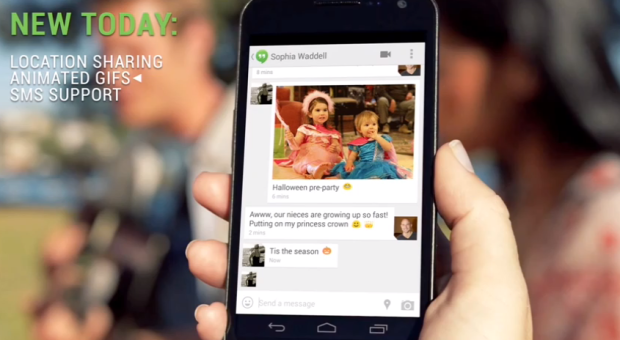 Last but not least we have a few new features that will be visually pleasing. One important one is animated GIF support, which Google said is one of the most requested features. We have animated GIF already, but not a simple way to share them right in chat, so they've added that. Then, a feature we saw earlier this year in testing that offered higher resolution HD video streaming, not to mention full-screen support, have both arrived as well. Google's rolling this out for everyone.
All the screenshots and information mentions today, so these features should all go live at some point this afternoon. We'll keep an eye out for more details and the updated Android or iOS applications.