Google Hangouts iOS App Gets Google Voice Integration
A huge update hit the Google Hangouts app this weekend on iOS. The messaging app received Google Voice integration with the ability to make and receive phone calls. It does include SMS, MMS or voicemail capabilities (we're guessing that'll stay with only the actual Google Voice app), but those using Hangouts will be able to make phone calls right from the app.
As far as what the changelog says, Hangouts users can now see which of their friends are using Hangouts, and who can currently be reached. This update even gives iPod Touch users the ability to make and receive phone calls right from Hangouts, which are free if placed inside the US and Canada. And of course, calls placed will use your Google Voice number, and there's no need to set up the integration; it'll automatically detect your Google Voice number from your Google account.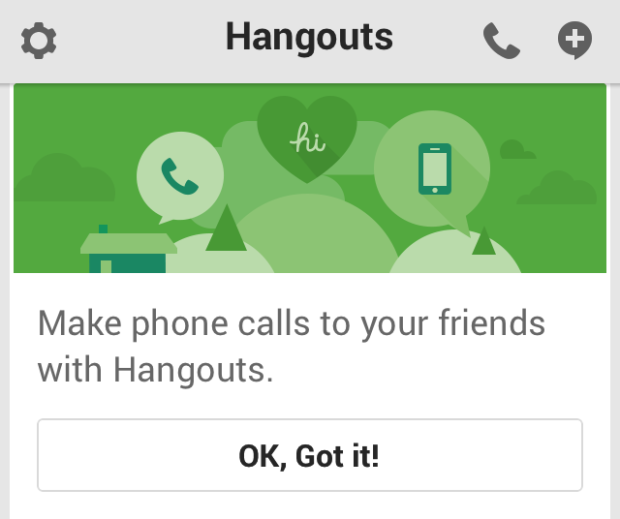 Furthermore, this update also gives iOS Hangouts users the ability to send and receive animated GIFs that will automatically play inline, adding on to the update a few weeks ago that animated GIFs were added to the desktop web version of Google Hangouts. Also, Hangouts will temporarily turn down your music (instead of stopping it) when you receive an incoming message. We're guessing this is a subconscious thing, where you can still bob to the music without it randomly pausing and messing up your vibe.
Sadly, the update isn't on Android yet, and we're frankly a bit surprised that it came to iOS first, rather than Android. Google Voice arrive on Android first, while it took several months for an official version to hit iOS. Now, the tables have turned, and Google is apparently seeing the benefit of rolling out new features first on iOS.
However, we should still see the update hit Android eventually, as per Google's Vic Gundotra, who hints that the update will Android eventually, but doesn't exclusively mention it. Google is mum about providing a timeline as far as when the update will hit Android, exactly. All this is especially odd, since the company that released the update and is in charge of both of these apps is the same company behind Android itself. In the past, Google apps have always gotten priority on Android, with iOS coming later on, but this is the first time we're seeing something this major get released on iOS first.