Google Hangouts Leaked Screenshots Reveal SMS Integration
It's been rumored for quite a while that Google Hangouts would eventually get SMS integration, but that day might be just around the corner, as leaked screenshots have surfaced from a new update that looks to be releasing soon. Android Police were able to get its hands on a couple of screenshots that all but confirm that SMS integration is on its way to Google Hangouts.
In the screenshot, we see in the app's conversation window that messages will sent through SMS will have a "via SMS" tag next to the time stamp. Furthermore, the settings menu from within the app gives users the option to turn on or off SMS capabilities, saying that you can "send and receive SMS with Hangouts." This means that it'll be optional, just in case you want to keep your multiple communication protocols separate.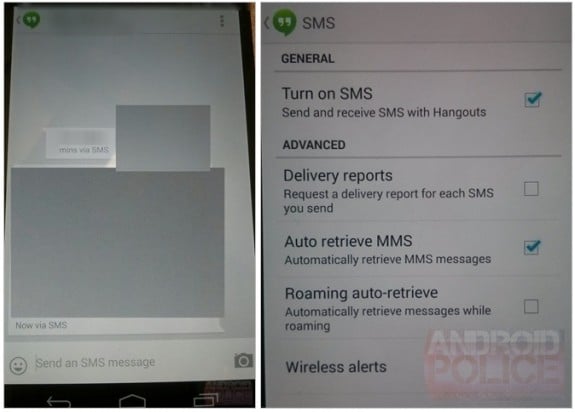 Furthermore, there's also a setting for MMS messages, meaning that Hangouts SMS integration will also support photo and video text messages as well. This kind of integration will hopefully get rid of the need of the stock messaging app in Android, with users simply completely relying on Google Hangouts for all of their text communications. It certainly might be the best thing to do for some users, but those who are deep into Google's ecosystem, we see it as a big feature.
There's no word on when we might expect the update to hit, it's possible that Google may release it to coincide with the launch of Android 4.4 KitKay and the Nexus 5. We're pretty confident that Google will hold an event to unveil these products, so it's possible that the company will take that time and detail the latest Hangouts update.
We see SMS integration in Hangouts as another baby step for Google to combine all of its communication portals into one service. Earlier this year, the company updated Hangouts and merged Google Talk and its video Hangouts chat service together in one app. It still has Google Voice out by itself, but we wouldn't be surprised if the company merged Google Voice with Hangouts at some point as well.