Did Google Just Leak the Moto G?
The now Google-owned Motorola launched the new Moto X earlier this year, full of special hands-free features and customization options, but it looks like Motorola isn't done quite yet. After hearing multiple reports of a Motorola DVX, or Moto "G" the budget smartphone leaked in full this week giving us plenty of details, and now we might have our first photos of the smartphone.
Motorola is preparing a new Moto G, which aims to be a similar experience for the budget crowd and emerging markets. According to @evleaks it will be free on contract, and has some pretty decent specs considering that free price tag. Ringing in nearly the same as the Moto X, it will be interesting to see if Motorola can actually deliver. Below is an image we've managed to unearth, showing the same smartphone which was leaked earlier this week.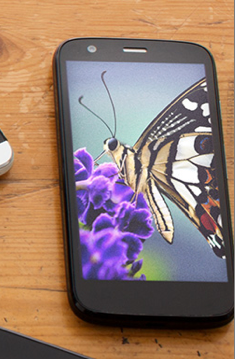 The image above is reportedly the same Moto G smartphone, which was spotted on Google's own page on the bottom right. Notice those are all stock Nexus and Google Edition devices on that page? The Moto G could be headed to the Play Store too. Until Motorola makes it official these are all just leaks and rumors, even if everything is lining up perfectly. Judging from previous images we may have Android 4.3 Jelly Bean on board, but if this arrives later this year Motorola should hopefully have Android 4.4 KitKat instead.
The Motorola DVX is what we're hearing will be this Moto G, which was spotted in a recent FCC filing, so at this point all the hurdles have been jumped and we're just awaiting more details or a release date. Motorola and Google could be aiming for a holiday release. Hoping families or customers will jump on a well-rounded smartphone free on contract for those holiday shoppers.
Then we have the original leak above, which looks identical to the smartphone shown by Google's own page. Oops! The rumored specs of the new smartphones from Motorola come in with a 4.5-inch 720p HD display and a Snapdragon S4 Pro quad-core at 1.5 GHz. The phone will have an 8 or 16GB configuration, with an 8 megapixel camera, which is slightly below the Moto X specs. There's a 1,950 mAh battery on board, and again, this is rumored to be free on contract, but it could also be a cheap option from the Play Store.
There's still no additional details regarding availability or any sort of confirmation, but if Motorola can push this impressive device out these holiday for free, consumers may jump on it and make this smartphone a hot seller.

This article may contain affiliate links. Click here for more details.