Google Maps for iPhone, First Look
And right on cue, Apple had approved Google Maps for iPhone, allowing Google's mapping service to return to the iOS platform as a native app.
The app has been optimized for the elongated screen of the iPhone 5, but don't expect it to look gorgeous on the Retina Display of the iPad as it isn't a native app just yet.
That said, you can still use Google Maps on the iPad–provided you have a cellular model with GPS–and scale it up to fill most of your tablet's display, albeit with a little pixelation.
Google Maps has been redesigned from the ground up, making it a fluid and fast experience. Google is now matching Apple Maps performance with vector-based graphics, allowing fast rendering that will be more data-friendly, a positive thing in light of tiered and metered data plans these days. You can pan, zoom, swipe, and touch without any lags or delays over 2G or 3G.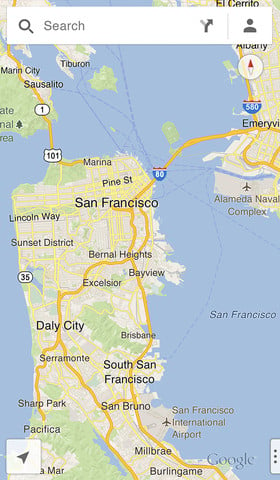 Also new to this version is true voice-guided turn-by-turn navigation instructions. Google has ported the Navigation feature from its Android platform to iOS so users can now hear audible instructions. In addition to driving directions, you'll also get walking instructions as well as public transportation navigation with estimated time of arrival and any fares.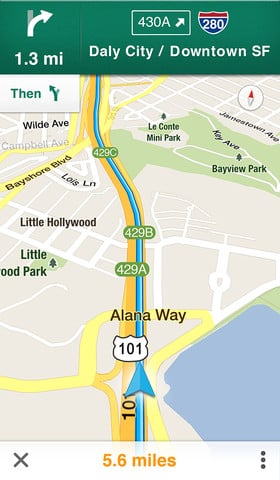 Like Apple Maps, Google Maps also has 3D building renderings. Zoom in and use two fingers to drag up or down on the display to switch between 2D or 3D view and you can see buildings, indoors mapping for select venues, and also city street-level traffic.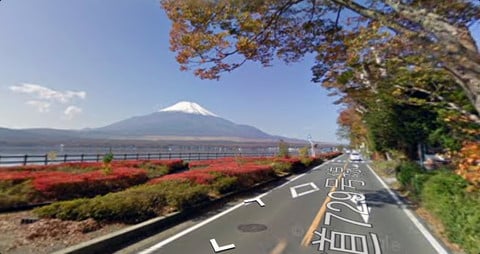 Additionally, you'll also be treated to satellite view, street level view, and traffic view. Street level view does require a bit more work to get to than before. Essentially, you'll drop a pin by touching anywhere on the map, then a banner on the bottom pops up with quick information about that pin. You can swipe the banner up to open it, and then you'll get detailed information including any user-uploaded photos, reviews (if it's a business), and also access to street level view.
With the launch of iOS 6 and the iPhone 5, Apple had essentially replaced Google's mapping service with its own on the iPhone's Maps app. The move resulted in heavy criticism as Apple's mapping service, which introduced vector maps and voice guidance for the first time to the bundled iPhone app along with new flyover effects, could lead to incorrect routes. Google's solution places the company's mapping service on iOS and brings a lot of the features from Android to Apple's mobile platform.
Google Maps is now available through iTunes or via the iPhone's App Store as a free download. Be sure to check out our first look video embedded above and let us know how the Google Maps experience compares to Apple Maps, TomTom, Navigon, Scout (TeleNav), Garmin, CoPilot, Magellan, or any other third-party navigation suites out there, free or paid!

This article may contain affiliate links. Click here for more details.