Google Maps for iPhone Drives 26% Increase in iOS 6 Adoption
The number of iPhone users running iOS 6 increased by about 30 percent following the release of Google Maps for the iPhone according to a TechCrunch report.
The numbers come from ad network MoPub which monitors more than 1 billion ad impressions every day across more than 12,000 apps. In the days following the Google Maps release MoPub saw a 29 percent increase in the number of unique iPhones running iOS 6. In the first three days the adoption rate increased 12 percent.
A large portion of users who upgraded to iOS 6 waited for the weekend. Friday December 14 into Saturday December 15 saw the biggest spike of iOS 6 users. That's either because users didn't have time during the week to upgrade their phones, or they decided to wait for reviews of Google Maps before upgrading.
Read: How to Use Siri with Google Maps Without an iOS 6 Jailbreak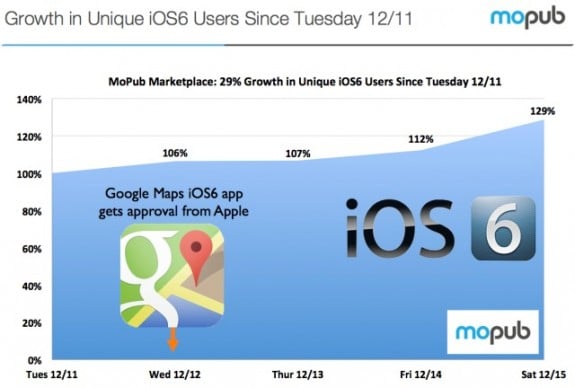 More than 10 million iPhone users downloaded Google Maps in the first 48 hours that it was available. According to this data even more users may have downloaded the app in the following 48 to 72 hours. Google likely won't release any more numbers for the number of downloads of Google Map until the next large milestone.
Google Maps convincing users to upgrade to iOS 6 is great news for Apple as well as users. For Apple it means more users are on its latest mobile OS, and more people might be willing to buy the iPhone 5. For users iOS 6 adds some new security features that help protect their privacy.
More users running iOS 6 also means more developers can create apps that only support the latest version of iOS 6. iOS 6 added a number of new features for developers, and many recent apps are only available for iOS 6 as a result of those new features.
Apple will continue to work on Apple Maps to make it a better service, but for now Google Maps is the alternative that many users asked for from the start.