Google Maps iPhone: Offline Abilities and iPad Support Coming Soon
According to a New York Times report Google Maps for iOS will soon gain abilities similar to the Android app, as well as get a full iPad app.
In his report on the app writer David Pogue outlined a few features that are missing in the iPhone Google Maps app. Among those are the ability to download sections of the map for offline viewing and indoor maps. Google promised him those features will come in a later version of the app.
Offline support is great for users in cities because it lets them look at maps while underground in the subway. Google Maps supports public transit, but it's helpful to know where to go after arriving at a subway station.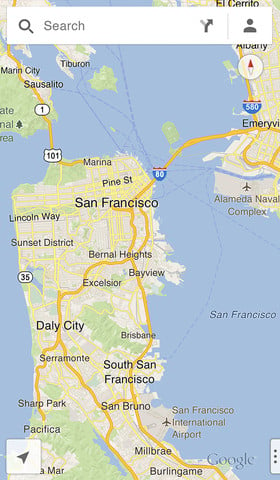 Later versions of Google Maps will also add iPad support. In its last-minute Google Maps presentation a few months ago Google showed a new Maps app on an iPad, but its current app doesn't support the larger screen. For now the iPad can only run a blown-up version of the iPhone app.
In time Google will also bring ads to Google Maps for iPhone and iPad. The service already has ads on Android, but because they show up as promoted storefronts on the map they're easy to ignore. Maps in iOS 5 already had a few promoted stores towards the end of its life.
Google Maps for Phone is just the 1.0 version of the app and Google will work to make it better over time. Even as a 1.0 app it has more features than many other third-party Maps apps, and Google's years of work on the service means it has more accurate data than Apple Maps.
Apple is still hard at work making Maps into a better app, but until that time Google Maps is arguably the best Maps app on iOS, even without all the features of the Android app.

This article may contain affiliate links. Click here for more details.