Google Music All Access Goes Free for Chromecast Users
Last year shortly after Google's annual I/O Developer event the company announced and released what we all now know as the Google Chromecast. The company's $35 HDMI dongle which allows users to stream or "cast" nearly any and all content from a smartphone or tablet right to any HDTV.
Google's Chromecast was a surprise product that ended up being a big hit simply because it has so much to offer and is only $35. It's still one of the best gadgets available in the tech world today. That being said, this morning Google announced they've sold "millions" of Chromecast units in less than a year, and is celebrating in the usual Google fashion by giving users free stuff.
Read: Google Chromecast Review: $35 Apple-TV Rival
Recent updates to Google Chromecast allows users to instantly stream everything from their smartphone or tablet to the TV with a Chromecast attached. It's 100% full Android mirroring of apps, games, your homescreen, movies, music and more. The device is extremely powerful, and keeps getting better with each and every update.
Since launching less than a year ago the Chromecast has sent over 400 million apps, games, and content from users small-screened smartphones and tablets to the biggest screen in the house, their TV. Google was busy adding hundreds of app support such as Netflix, Hulu, HBO Go, Pandora Radio, and tons of games, but the update linked to above finally unlocked full Android screen mirroring.
Whether you're catching the latest baseball game with MLB.TV Premium and MLS Live on Chromecast, or enjoying some upcoming NFL games with WatchESPN, the Google Chromecast does it all. It has obviously been a surprisingly successful device which was sold out for months on end from both Amazon and the Google Play Store, but is now readily available for $35 in 30,000 stores and over 20 countries around the globe.
What Google is trying to say is that the Chromecast is an extremely awesome product for $35, they never expected it to be such a hit, but now that it is they want to celebrate by giving all those who own a Chromecast something free.
Read: Google Chromecast App Support Poised to Explode
This morning Google announced that all users who own or have setup a Google Chromecast are eligible for three months of Google Play Music All Access completely free. All Access is Google's unlimited music streaming service similar to Spotify, which costs $9.99 per month, but to celebrate Chromecast's 1st birthday you can get it free for 3 months.
Starting today, July 24th, and running until September 30th anyone who owns (or goes out and buys) a Chromecast will be able to head to Chromecast.com/offers and retrieve the free 3-month offer.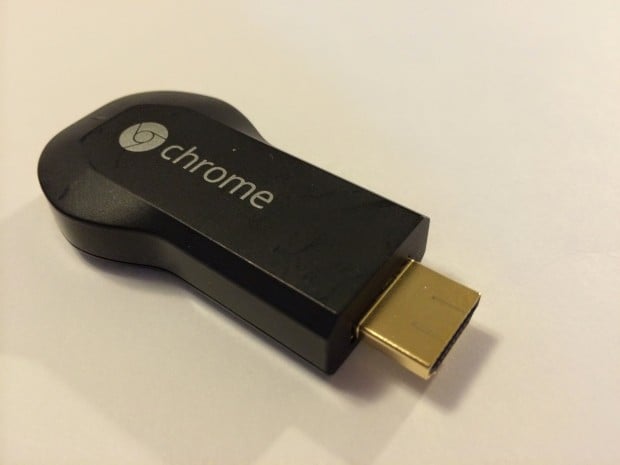 If you pickup a new Chromecast for the usual $35 price and enjoy the three months of free Google Music All Access (a $30 value) you're essentially paying just $5 for one of the best gadgets you'll be able to use and enjoy for years and years.
Sadly this limited-time promotion is only available in the United States, for now, and will be available from today until Septeber 30th for those interested.
Chromecast Future
That isn't all Google had to say today either. The company also announced that in the near future owners can expect even more features to arrive for the Google Chromecast, making it even better. Future updates will allow friends, family members, or others to cast directly to your Chromecast, even from a different WiFi network. Meaning your siblings or friends out of state can cast and stream video from their phone to your TV.
Customizable homescreens, beautiful artwork, and personal photos will all be available to save on your homescreen, or use as a screensaver while you're out and about. The Chromecast journey is 1-years old, but isn't slowing down.

As an Amazon Associate I earn from qualifying purchases.