Google Music Has a Daily Streaming Limit
One user has discovered that Google Music, the online cloud-based storage and streaming service for your Google Play purchased music as well as for your user-uploaded music does have a limit to how much you can stream each day. When that user tried to stream music after that limit was met, he was created with a message stating that the 'Streaming limit [has been] exceeded.' The message was peculiar as Google had not really disclosed of a limit in the past, and it was unclear what that limit was.
Since the report had went live on Droid-life, Google had clarified with the site stating that there is in fact a daily streaming limit. According to Google, that limit is so high that it hasn't been much of a problem for users in the past, and this seems to be true as we've never heard of anyone encountering this issue before.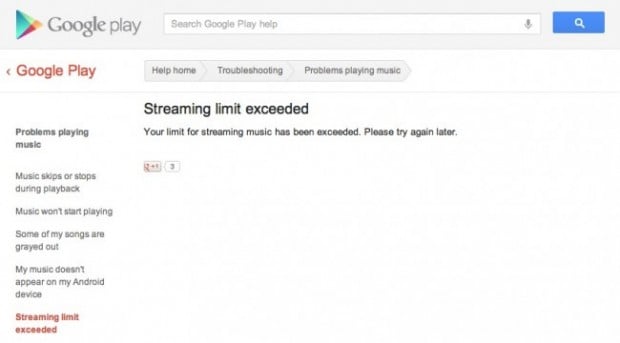 It's unclear why the limit was put into play to begin with, and who Google may be trying to protect–whether that's the carrier in the event you stream your music over 3G or 4G, the music rights holder in the event that Google tried to work out deals with studios for DRM issues, or the consumer just in case you tried to stream over a mobile broadband network and are using your data too quickly and may be threatened with throttling messages or have to pay overages. Google does have a maximum 20,000 song storage limit on its cloud for user uploaded content. Any content purchased through the Google Play store does not count towards that limit.
However, as such a limit does exist, it does dampen Google's implementation of the cloud. That said, users can still download music and play them locally if they still need access to their content.