Google Music Works on iPad and iPhone (Video)
Google Music may be aimed at Android users, but that doesn't mean Google is leaving iPad and iPhone owners out in the cold. The Google Music service works great on the iPad and iPhone, without the need for an app. The Google Music for iPad and iPhone site works so well you can even use the built in media controls and play the music in the background.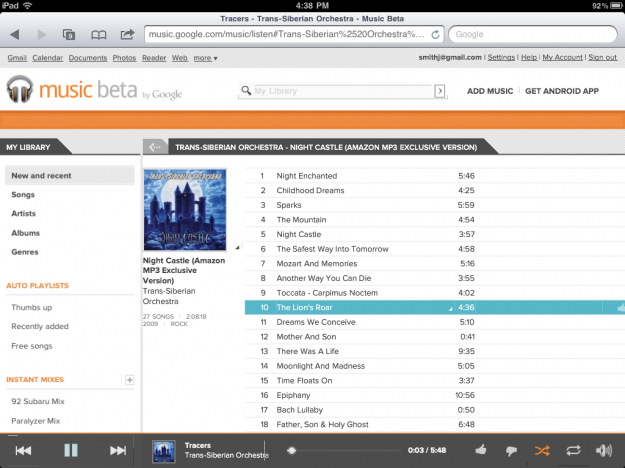 We were surprised by how well Google Music works on the iPad and iPhone given Amazon's crappy iPad implementation of their Cloud Player. To use Google Music on your iPhone or iPad, visit music.google.com from your browser and then choose the music you want to play. It's that easy. You can use the built-in controls with a double tap of the home button or the music bar at the bottom of the app. You'll definitely want to rely on the music controls built into the iPad if you can because the navigation bar can be a bit tricky to use. For quicker access, bookmark Google Music and set it as a shortcut on your homescreen.
Google Music is harder to use on the iPhone, sometimes requiring multiple taps to start playing, but your experience may vary and it won't scroll correctly for some users. Hopefully this will improve over time.
The Google Music experience on the iPad and iPhone isn't as good as a dedicated app, like on the Android, but it is great news for iOS owners who made it into the Google Music Beta. Check out our hands on with Google Music for more information as well as our editorial asking if we really need a cloud music service like Google Music.

As an Amazon Associate I earn from qualifying purchases.