Google Nexus 5 Coming to Sprint, T-Mobile, Amazon and More Soon [Updated]
Google may have just unleashed its new Nexus 5 smartphone in the Google Play Store, but that doesn't mean users who prefer to buy their smartphones in more traditional ways won't be able to get their hands on it. The company says that users can expect the Nexus 5 to arrive in some retail stores soon.
According to the company's blog post this afternoon. Users can expect the Nexus 5 to arrive at two of the United States' largest carriers: Sprint and T-Mobile. Additionally it'll also begin selling the Nexus 5 through traditional electronics retailers Amazon, Best Buy and RadioShack.
Unfortunately, Google's blog post doesn't actually detail when users can buy the handset. However, it does say that users can expect it "Just in time for the holidays."
Announced today, The Nexus 5 is Google's latest flagship smartphone. Internal specifications include a 4.95-inch IPS display with a resolution of 1920×1080 pixels, a 1.3 front-facing camera for video chatting and an 8 megapixel rear-facing camera. The Nexus 5 also includes the very latest in hardware with Qualcomm's 2.3GHZ quad-core Snapdragon 800 processor acting as the device's brain.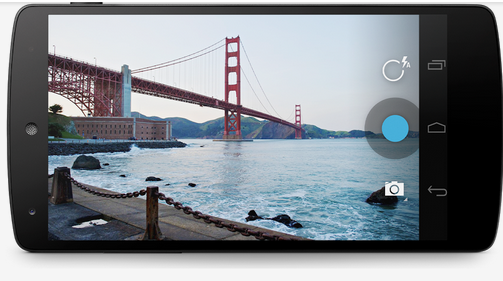 Read: Nexus 5 Announced, Finally Hits Google Play for $349
The Nexus hardware isn't the only thing getting an update today. Each Nexus 5 will come with Android 4.4 KittKatt installed by default. Among other features, Android KittKatt includes a new printing framework that will allow for Android devices to easily communicate with printers, screen recording, Miracast display output support and a new system that allows Google Now to constantly listen for commands without users having to press a single button.
All of these features will come pretty cheap too. Nexus 5 pricing begins at just $349 for a device with 16GB of storage. Users can also pick up a Nexus 5 with 32GB of on-board storage for just $399.
Users can only choose between black and white versions of the Nexus 5, however Google has also announced a range of bumper cases that allows users to differentiate their device just a bit. Colors include Black, Gray, Bright Red and Bright Yellow. Each case will sale for $34.99 will sell sometime "soon."
Update: Sprint now says that users can expect the Nexus 5 on its network beginning November 8th for $149 with a two-year contract.