Google Nexus 6P Case Review: Not Quite Perfect
The official Google Nexus 6P case is available on the Google Store as we speak, and multiple buyers probably picked one up, or plan to. Being an expensive $35 case many are wondering if it's worth it. The case is well designed, leaves access to every port, button, and the fingerprint scanner, but might not be what buyers are looking for. This is our Nexus 6P case review.
With the release of the all new Nexus 5X and Nexus 6P came a surprisingly good amount of accessories at launch. Typically Google doesn't have cases the day phones are released, but this year they do. We've been able to spend over a week with the new Nexus 6P, and Google's official Nexus 6P case for the phone, and it's average at best.
Read: 13 Exciting Official Nexus 5X & Nexus 6P Accessories
Google's Nexus 6P offering is a typical rubbery case, perfectly designed with access to all the buttons, ports, microphones, laser auto-focus and even the fingerprint scanner, but it isn't perfect. It also has an awesome printed and textured microfiber fabric on the back that is actually our favorite aspect of the case. It's well designed, but read on to see why we'd recommend buyers look elsewhere for their Nexus 6P case needs.
We test a lot of cases here at GottaBeMobile, and typically recommend some of the best options for each phone as they're announced. There are countless excellent case manufacturers too. Like UAG, Spigen, Diztronic, Speck, Incipio and many others. And while not everyone will offer cases for Google's Nexus phones, there are more than enough floating around eBay or Amazon.
Google sent us their own official Nexus 6P case. Not the folio case, or the Speck CandyShell, or the Adopted case, but Google's own case simply named "Nexus 6P case". It's a beautiful case coming in a quartz white, or carbon black (or grey) but it doesn't fit nearly as good as I was expecting.
With a case buyers want excellent protection, not a lot of bulk, make a phone easier to hold and use, and hopefully precision-cut buttons for the perfect scenario. All of that but one is true with Google's Nexus 6P case.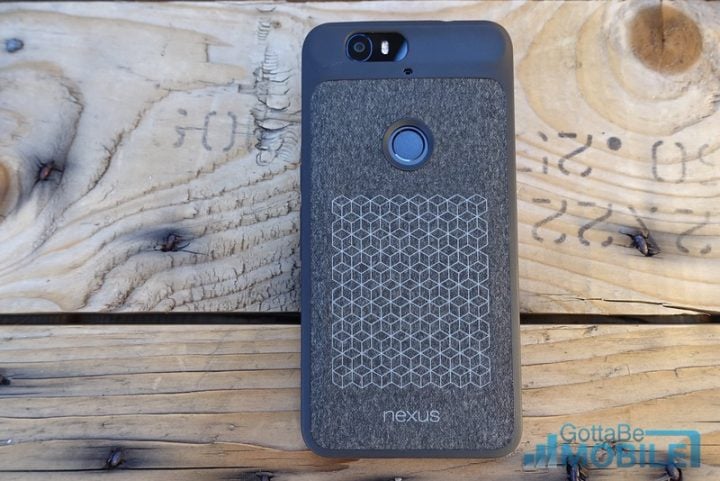 As you can see above it looks pretty good. And while I'm not a fan of the printed design on the microfiber fabric on the back, I love the fabric idea. It makes it extremely soft, comfortable, easy to grip, and it looks good too. It's actually one of my favorite cases I've ever used, for any phone, it it only would have fit properly.
The microphones all have cutouts, the camera isn't covered, the hole is big enough for charging, and the corners are extra thick for added protection against drops. It's a good case. It also has a raised lip around the screen so it won't get damaged lying face down, and there's a nice slanted lip for the fingerprint scanner on the back. Making it extremely easy to find, tap a finger, and unlock the phone. It works great in every way, but one. The buttons.
Users mileage may vary, but the design isn't quite perfect on the one I received. Mine is slightly too big, and the top sometimes comes off the Nexus 6P, exposing the aluminum frame up top, and I have to snap it back in place multiple times a day. Then, the most important part of any case, is how well the buttons are placed so it's as easy to hit the power or volume keys as it is without a case. With Google's Nexus 6P case, this simply isn't how it turned out. Maybe the rubber is too hard, maybe they're too close together, but when I hit the power button, it often hits volume up at the same time. Confusing the phone. Taking screenshots (power and volume down) is near impossible, as the phone registers volume up instead, and doesn't take a screenshot. Instead it turns up the volume. Or goes up and back down and doesn't register anything. I've had to take the case off to take screenshots. That is unacceptable for a $35 case.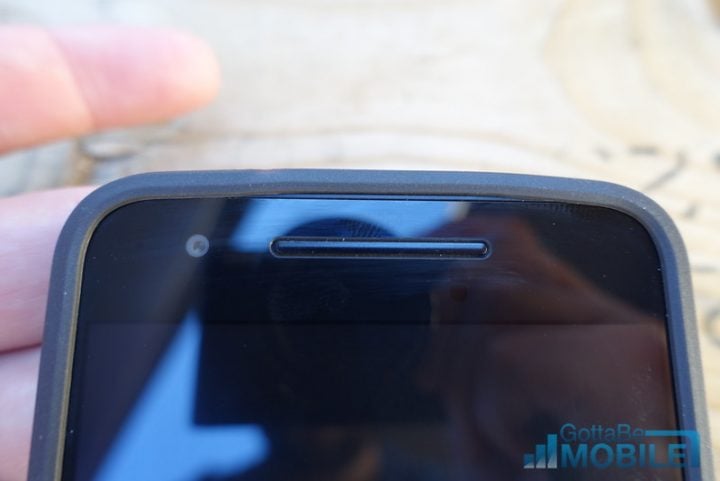 That one slight problem aside, this is by far one of the best cases I've used. It's not too soft or cheap like $3 cases on eBay, but it isn't too hard either. It's easy to put the phone in, relatively easy to take off, looks good, and feels amazing in your hand. The microfiber textured fabric on the back really is amazing. I love how it feels, and can overlook the odd printed design. It's the fit that makes it a deal-breaker for me.
Maybe I received a bad batch, but for $35 I could buy 2-3 cheaper options on Amazon from the competition, ones which will likely fit better, and the buttons will work perfectly. In fact, I did. I bought a cheap $8 TPU case and it's slimmer, offers nearly the same amount of protection, and the buttons are extremely easy to tap. It's perfect.
Google's Nexus 6P case is a good option, and it might fit better for others. One thing I can say though, is it looks great, and the most important aspect was probably the fingerprint scanner. Accessing it on this case is a breeze, it's the power button that didn't get the attention it deserved.
Case reviews are typically pretty cut and dry, but that wasn't true here. I have mixed feelings, as it's by far one of my favorite cases I've ever used, but not being able to take screenshots or perfectly hit the power button is a big issue. Again, maybe others will have a better experience, and a few reviews around the web suggests it's pretty good, but not everyone will want to take a $35 gamble when there are other options under $10 elsewhere.
In the end it adds additional comfort, looks good, fits pretty perfect in all areas but one, and is one of the best soft cases around. Unless some fit better than others, we'd recommend buyers look elsewhere or try one of the other three cases on the Google Store for the Nexus 6P. For those still considering the phone, take a look at our hands-on and unboxing coverage and video.

As an Amazon Associate I earn from qualifying purchases.