Google Nexus 7 Tablet Can Replace My iPad For Now
For two plus years people could accurately call me an iPad fanboy, but I'm going to try and go without using my iPad in favor of the Google Nexus 7 Tablet.
While I am a fan of Apple products, I'm also an Android user. I replaced my iPhone with a Samsung Galaxy Note and now the Samsung Galaxy S III, so it's not an Apple thing. I don't just pick the Apple product because I'm an Apple fanboy. However, I do love the iPad and won't give it away any time soon, but lets see if an iPad fan can go Nexus 7 full-time.
Last summer I tried other android tablets, but they were all a no go. So, when I ordered the Google Nexus 7 Tablet, I wondered if it could replace my iPad full-time. I've only had it for one day, and so far it looks possible.
I opened the Google Nexus 7 Tablet and spent most of the afternoon installing apps and configuring the tablet. Last night I played around and tested things out like gaming, video, music and reading. I love my iPad, but its still sitting where I left it the night before UPS delivered the Nexus 7 – on my nightstand charging.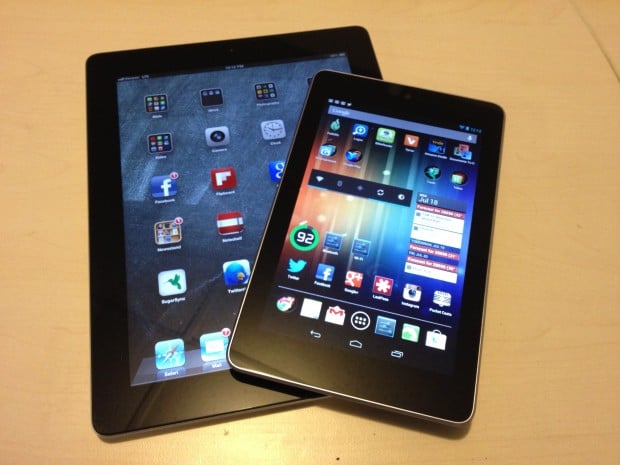 Getting Online
Four hours into the first full day of my Nexus 7 only experiment and I'm pretty happy. I took my son to the eye doctor and wanted to check email, Twitter and Facebook as we waited for the doctor to call us back. His office doesn't offer public Wi-Fi in, so I encountered the first snag. My iPad sports Verizon LTE but the Nexus 7 only offers Wi-Fi. Thanks to my Samsung Galaxy S and AT&T tethering I checked my email and social networks.
After the eye doctor we snagged some eggs at a local diner. Two years ago, I sat at the same diner with my Wi-Fi only iPad and couldn't get online. Today, that small town diner offers free Wi-Fi. A device doesn't need always on Internet as much as it used to thanks to the ubiquity of Wi-Fi. For those few times I can't find free Wi-Fi, I can use the tethering on my phone.
Teaching and Making Presentations
As I plan my day I know that tonight I will teach a class at my church. I don't use Keynote every week, but when I want too I can't use the Nexus 7 as a presentation tool. Even if i converted to a presentation app on the Nexus 7, there is no HDMI out.
When I don't use Keynote, I do use Pages to view my notes on the iPad so I don't have kill trees printing my teaching notes. I plan to use QuickOffice to view the notes imported via SugarSync to my Nexus 7. The smaller screen concerns me some for looking at my notes when I step away from the podium. I usually enlarge the font to 24 point so I'll just enlarge it a bit bigger in QuickOffice to make up for the smaller size.
The Good and the Bad
So far I don't miss any of the apps I used on the iPad. I prefer a few apps over their Android counterpoints, but not so much that it keeps me from using the Nexus 7. Comparing the two devices, the $300 premium will motivate most people to settle for a slightly less functional experience.
The things I like most so far:
Perfect size for reading. Feels like a book in my hand.
Screen looks really nice
Interface feels smooth
Android goodness – customizable keyboards, launcher, widgets on home screen and more
Watching video feels very personal despite smaller size
Thins I don't like so far:
I can't rotate the stock launcher home screen
No external video hookup or Apple TV streaming capability