Google Now for iPhone Stuck in App Store Approval
Google Now for iPhone is ready for release, but it's still working its way through Apple's App Store approval process.
TechCrunch reports that Google chairman Eric Schmidt discussed Google Now for iPhone and iPad at Google's Big Tent event in India. A video of the event shows Schmidt answered a question about Google Now about 18 minutes into his talk. When asked about when Google Now will come to the iPhone the chairman said "You'll need to discuss that with Apple."
Schmidt continued, saying "Apple has a policy of approving or disapproving apps that are submitted into its store, and some of them they approve and some of them they don't."
Edit: Apple says there are no current Google apps in review for the App Store according to a report from The Verge. It's not clear what Schmidt referred to in his quote, unless Google has future plans to release an app with Google Now, at which point it will be up to Apple to approve it or not.
While the Google executive didn't confirm that Apple is still reviewing Google Now for iPhone, he certainly hinted at it strongly. The comments are similar to rumors about Google Maps before the app came to the App Store. That app eventually came to the iPhone. There was no evidence that Apple withheld the app.
Apple does have a history of taking a long time to approve Google apps such as Google Voice, which Google submitted to the company months before it finally came to the App Store.
Recently a video of Google Now for iPhone appeared on YouTube, though Google pulled it down very quickly. The video showed Google Now as part of the Google Search app for iOS. In the video users can access the service by swiping up in the app, similar to how Android users launch the service.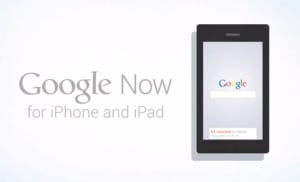 The Google Now for iOS video showed the service displaying traffic conditions for users' commutes as well as the weather, sports scores, flight information and translation. Presumably Google Now for iPhone would have many of the features as Google Now for Android, as well as work on any recent version of iOS. Interestingly enough, due to larger rates of iOS users with the most recent version of iOS, that would likely mean more iPhone users will have access to the service than Android users.