Google Now Update Adds Sports Scores, Movie Times, and Public Alerts
Google just recently updated its Google Now search utility for Android 4.1 Jelly Bean smartphones to add new functionality. Google Now now incorporates the latest real time sports scores updates once you've told Google your favorite teams, movie times that populate when you're within reach of a cinema, and also public alerts in your area for things like earthquakes, hurricanes, and other emergencies.
The update is now available in Google's Play Store. Unfortunately, Google Now is still limited to devices running Android 4.1 Jelly Bean. Phones running Google's older versions of the Android OS are utilizing Google Search instead of Google Now.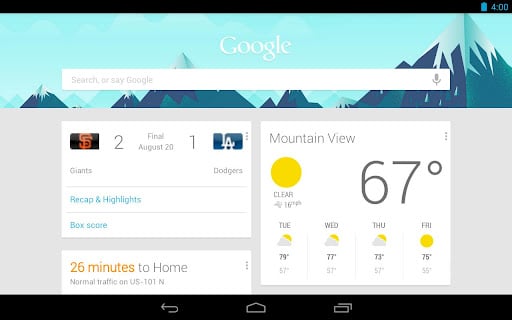 Google Now is similar to iOS' Siri and drop down notification functionality for iPhone owners, but adds more useful information and is more intelligent. Like iOS, it gives users weather information. However, it also checks your calendar and will display traffic information for your meeting and work commute. Google Now is one of the new features that Google introduced at Google I/O this year for Android 4.1.

This article may contain affiliate links. Click here for more details.