Google Now Updated to Include Pedometer Card
Google's intelligent search app, Google Now, for Android smartphones and tablets now include an intelligent pedometer app that tracks your distance and knows how far you've walked. The updated card should automatically begin appearing on Android devices running Android 4.1 Jelly Bean or later and joins cards for weather, nearby restaurant suggestions, and other related search cards.
According to Google, the distance walked is calculated using periodic location information that's being sent to and stored via Google.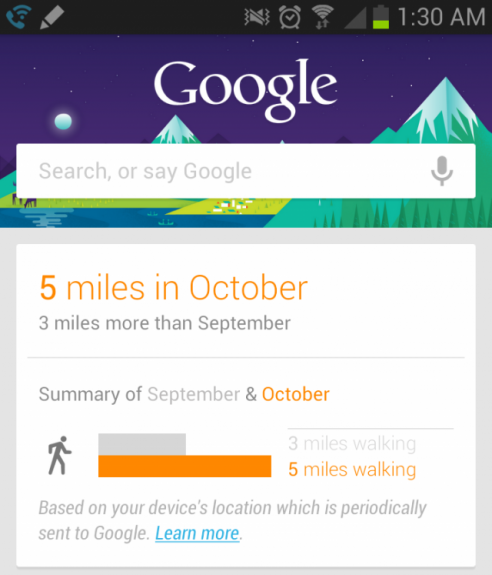 The card includes information for users who travel by walking, bicycling or via other modes of transportation.
Google Now's latest addition may help smartphone users stay more active and matches the features of Nike+ integration on Apple's iPhone, which tracks activity based on the accelerometer.
Google Now is designed to be a hyper-personal search tool for smartphone owners that provides intelligent recommendations through various cards based on location, search history, and past Internet usage behavior. It's meant to be a Siri competitor and an assistant that learns your behaviors and adapts to you. Google Now is an extension of Google voice search and is a feature that debuted on Android 4.1. Since Jelly Bean, Google has continued to provide periodic updates to Google Now to enhance and augment its features set.
With Android 4.2, Google Now has added the following capabilities, according to Google's official Android blog.
So today we're adding more cards that we hope you'll find useful. Flight information, restaurant reservations, hotel confirmations and shipping details—how often have you found yourself wading through your email to get this information at the last moment? So next time you book a table for dinner, you'll get a reminder with all the details without ever having to lift a finger. You'll also get cards for nearby attractions, interesting photo spots, movies times at nearby theaters or concerts by your favorite artists.
According to Phandroid, the new card had begun showing up on user's Android handsets detailing over the last day or two to detail the distance they've traversed over the month of October.
Though Google had gotten into some heat over privacy in the recent past, these intelligent and adaptive cards provided through Google Now to offer users this hyper-personalized experience is only possible by collecting various information that users generate through their behavior on the Internet–in this case, constant monitoring of location information over time.