Google Officially Kills Off Motorola's Lapdock, Webtop OS
It's been rumored that Motorola Mobility will abandon the innovative Webtop OS and Lapdock accessory that would essentially convert a phone, when docked to the laptop hardware, into a lightweight netbook. The concept debuted with the Motorola Atrix 4G released for AT&T and since then Motorola had released a number of devices for AT&T, Sprint, and Verizon that support the Lapdock accessory via the accompanying Webtop OS that's embedded into a customer's Android smartphone. However, it looks like there was not quite the amount of adoption necessary for Motorola to continue to offer Webtop and Lapdock on future phones.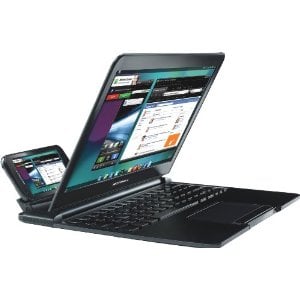 According to an official response to CNET, Motorola has now officially ended the Webtop and Lapdock support on its Android lineup.
"Motorola's Webtop app helps users extend their smartphone experience to larger screens. While consumers around the world have adopted Webtop and the concept spurred a lot of innovation in the industry, the adoption has not been strong enough to justify continued resources being allocated to developing Webtop on future devices. We have also seen development of the Android operating system focus on the inclusion of more desktoplike features. Beginning with Photon Q and Droid Razr M/Droid Razr HD/Droid Razr Maxx HD, we will no longer be including Webtop on our products moving forward."
It looks like the Google-owned Motorola Mobility will be focusing its efforts more on its smartphone hardware. Google has other projects where it comes to the lightweight notebook space, including the Chromebook OS and Chromebook hardware from OEM partners.
And while Motorola's concept was great and drew a lot of praise when it was initially announced, the experience was less than smooth. Early editions of Webtop loaded a full Firefox browser and users were not able to install additional apps or programs written and designed for the larger laptop-like Lapdock's larger display. Instead, users can only scale up their smartphone's apps to fit the screen of the Lapdock. Later, Motorola replaced Firefox and used a scaled up version of Android's browser, making the experience far more stable and smoother, but there was still some amount of lag.
Under Google, Motorola has been making a lot of cost-cutting measures, and it seems that Webtop is out. The good news is that Motorola will be focused on battery life, 4G LTE, and rolling out the latest updates to Android with the freed up resources.