Google Photos for iPhone: 4 Reasons to Try It
Google introduced a new Photos app yesterday and it's now available for iPhone. Here are four reasons why you should try it out.
The Google I/O 2015 keynote took place yesterday, and the company announced a handful of new things, but perhaps the biggest announcement was the new Google Photos app, which takes photo management to an all-new level.
Some of the big features of Google Photos for iPhone include free unlimited cloud storage for photos and videos, a user interface that's really easy to navigate, and a smart search function that makes searching through your photos a breeze.
The app is available for iOS devices and it's essentially a direct competitor to Apple's own Photos app on iOS and iCloud Photo Library. While most avid iOS users probably won't want to switch over to Google Photos cold turkey, here are some reasons as to why you should at least try out the new app.
Free Unlimited Cloud Storage
When you choose to let Google Photos back up your photos and videos to cloud storage, it saves them to your Google Drive account, but they don't count against your Google Drive storage, meaning you get unlimited storage for your photos and videos.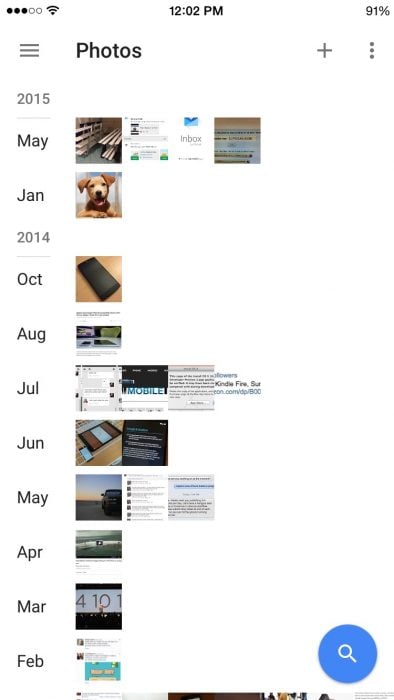 It can back up photos that are up to 16 megapixels in size and video that's as big as 1080p without compressing them, all for free without using up your Google Drive storage allotment. Any photos and videos that are higher quality will be slightly compressed by Google, but the company's assures users that they'll hardly notice a difference in most cases.
This is quite impressive, considering that Apple only gives you a measly 5GB for free with its iCloud Photo Library. If the Cupertino-based company wants to compete, it'll have to change the way it handles cloud storage drastically.
Cross-Platform Support
The Google Photos app works on Android and also has a web interface that you can access in any browser, which looks almost identical to the mobile version.
The user interface in the mobile app is pretty great. You can pinch-to-zoom in and out to more or less photos at once on the screen. You can zoom out to view years worth of photos, or zoom in to only see photos that you took yesterday.
Plus, you can quickly scroll up or down through your photos in any zoom settings, and there's a small scrollbar that will appear that you can drag up or down to make scrolling even faster.
Features
It might not come as a surprise when I tell you that Google Photos comes with some unique features. The only question is whether users will truly like them and use them frequently. Google has been known to introduce gimmicky features in the past, Auto-Awesome being one of them.
This time around, they have something called Assistant, which gives you creative suggestions for your photos and videos. Essentially, it can show you "fun new things automatically created from your photos & helps you stay organized," whatever that means.
However, Google demoed some uses during its keynote, where it can take a round of selfies that you took and turn them into an animated GIF, which is kinda cool.
Again, I'm not sure if this is something that will truly be useful for users, or could just end up being turned off eventually by most users. However, there are still other useful features, like in-app photo editing, which is definitely handy to have.
Photo Search
One of the biggest features of Google Photos is its search capabilities. You can type in a word or phrase and Google Photos will try to bring up some photos that closely match that term. It will even recognize faces in photos.
The app can also bunch up photos into collections if there are a handful of photos that look somewhat similar, like if you took a lot of photos of the Grand Canyon while you were vacationing last year. Google Photos can bring up those photos in a batch.
It's one feature that separates itself from Apple's own Photos app, and it's something that Google has always done well and will continue to do well.

As an Amazon Associate I earn from qualifying purchases.