Google Pixel Release: What We Know So Far
Google is set to announce two new smartphones this week, but instead of Nexus devices they will be re-branded to Google Pixel Phones. At this point we know nearly everything already, and here we'll be going over a few more final details for potential buyers.
With each new version of Android Google releases new hardware, like the recent Nexus 5X and 6P along with Marshmallow. On October 4th Google will unveil two new phones made by HTC. They will officially be the Google Pixel and Pixel XL.
Read: Pixel Phone Video Brings Rumors to Life
In April the rumors first started floating around, with leaks suggesting two HTC Nexus phones. Since then everything has shifted into an all-Google effort. These will be 100% Google with custom software, not stock Android, and much more. Here's the latest information, leaks, specs and more.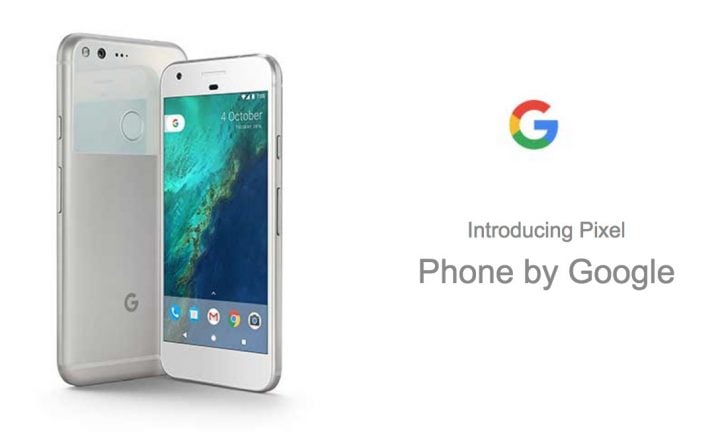 It looks like initially the launch date may have been October 1st instead of the 4th, as tons of information surfaced this weekend. At the end of September we received press photos, a leaked video render showing the final design and more. However, over the weekend full details were revealed by Carphone Warehouse, TELUS, Bell and other carriers outside of the United States. The image above is one of many that were leaked.
These carrier leaks essentially confirm everything we've seen and heard over the past two months. Those being Google will unveil a new Pixel and Pixel XL. Both phones are identical in every aspect aside from the screen size and battery. A similar approach as Samsung or Apple with two high-end phones catering to all buyers. Big and small.
The first leaks started with AndroidPolice, who's been sharing details about Google's plans for months on end. From a new set of phones, Google Home, Google WiFi, and the merge of Android and Chrome OS into one. That will be called Andromeda and may be shown off on October 4th.
That all being said, here's what we know about Google's flagship smartphones for 2016, and maybe even a tablet and some watches.
Both Pixel smartphones for 2016 will be made by HTC, have premium aluminum designs, and share nearly the same specs only one will be much bigger, have a better display and longer battery life. Meaning the smaller model won't be a lower end "budget" phone, like we saw with the Nexus 5x in 2015.
Back in July our first image of the smartphone surfaced. It was made based off of leaked information, but now we know it was extremely accurate. The Pixel will have a 5-inch 1920 x 1080p HD display. The bigger Pixel XL will have a 5.5-inch Quad-HD AMOLED display.
Before we get into the specs and other rumors, we have more information about the software. Google recently confirmed they'll be making some software changes and adding more software features on Nexus phones, aside from stock Android, and below could be one of many changes. AndroidPolice states there will be a new Google button rather than an entire search bar, and a swipe-up gesture for the app tray. The application launcher button is gone completely in their teaser below. This is the Pixel Launcher we saw last month, and is just one of many changes to stock Android that will complete the Pixel phones.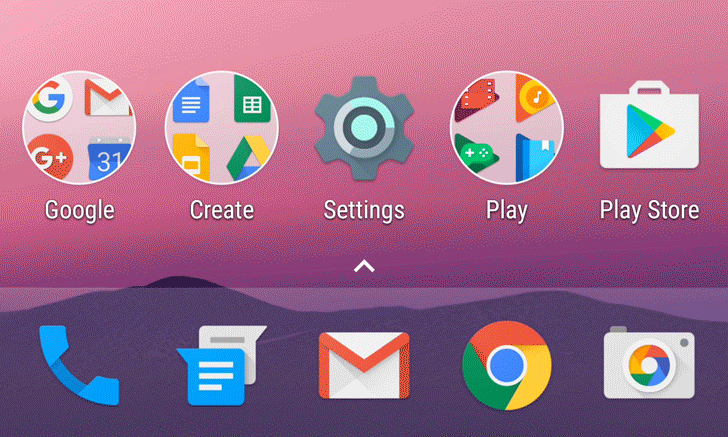 The Pixel and Pixel XL will both launch with Android 7.1 Nougat, or Android 7.0.1 Nougat. Rather than run stock Android like past Nexus devices, they will have useful changes that better represents Google's vision for Android. Like a redesigned Google search bar, new on-screen navigation buttons, Google Assistant and other things. We'll find out everything on October 4th.
2016 Pixel Phones
We've heard reports similar to the specs below multiple times lately, but the leaks from official carriers this weekend essentially confirmed it all. Google hasn't said it themselves, but this is what buyers can expect from these phones.
Google Pixel XL Specs (Rumored/Leaked)

5.5-inch 2560 x 1440 Quad-HD AMOLED Display
New Quad-core Snapdragon 821 with 4GB of RAM
32 or 128GB of storage (no micro-SD slot, and no 64GB model)
Android 7.1 Nougat with extra features
12.3 Megapixel Rear Camera (1.55um sensor) with OIS, 8MP front camera
Rear-mounted fingerprint scanner
Bottom facing speaker (not front-facing like last year sadly)
USB Type-C port for Rapid Charging
3,450 mAh battery
more
For the most part it sounds like a decent upgrade over the Nexus 6P, even though the screen is slightly smaller. The device is much smaller physically and has a more powerful (and efficient) processor, improved camera, faster charging, and the same size battery. Meaning better battery life for owners. Here's another leaked photo showing both phones in black.
An exciting part of these rumors is that both the smaller 5-inch HTC Pixel and the bigger XL will have the same design language, the same specs (for the most part) and just be different in terms of size and price. The idea being a 2-prong approach that's been extremely successful for Apple and more recently Samsung. Like the Galaxy S7 and bigger Galaxy S7 Edge.
The latest news suggests the smaller phone could start at $649, which isn't exactly a budget device like Nexus buyers are used to. However, it's a high-end flagship phone with cutting edge specs and features. If so, the Pixel XL may start at $749.
Google Pixel Specs (Rumored)
5-inch 1920 x 1080p Full HD AMOLED Display
Quad-core Snapdragon 821 Processor with 4GB of RAM
32 or 128GB of storage (no micro-SD slot, and no small 16GB model)
Android 7.1 Nougat
12.3 Megapixel Rear Camera with OIS, 8MP front camera
Rear-mounted fingerprint scanner
Bottom facing speaker (not front-facing like last year sadly)
USB Type-C port for Rapid Charging
2,770 mAh battery
more
As shown above, these phones sound almost identical across the board aside from one having a smaller display and a lower resolution. Google's smaller device also doesn't need as big of a battery.
To add even more fuel to the fire and rumors, @evleaks is at it again. The leakster has confirmed the phones a few times, but now claims Google and Huawei will release a tablet this year. If all goes according to plan and the above rumors, it would of course be a new 7-inch Pixel Tablet or "Pixel Mini".
Google's Huawei-built 7-inch tablet, with 4GB RAM, on track for release before the end of the year.

— Evan Blass (@evleaks) September 5, 2016
In the past he confirmed both of Google's new "Pixel" phones will be available on Verizon Wireless. Since then a few reports claim they will be exclusive to Verizon, which is doubtful. If true, Google may have both Pixel phones on Verizon and then unlocked on the Google Store. Not to mention being available at retailers around the globe. Like the few that leaked information this weekend.
Below is a teaser image showing some potential colors Google may launch their phones in. They are made out of metal, but have a glass window on back for improved signal and WiFi/4G LTE radios. So far we're hearing it will come in Titanium White and Black. Gold hasn't been confirmed, and one rumor suggested an Electric Blue, similar to the Nexus 5X from last year.
At the end of the day both of these devices have plenty to offer, a great design and the latest version of Android. Buyers will just be able to choose which screen size works for them, without having to sacrifice on specs to get the smaller 5-inch model.
Release Date
Everything will be officially announced tomorrow, October 4th. This was a date we heard over and over again, and it was right. However, now we're wondering when the actual release date is. Last year the Nexus phones were announced at the end of September and went up for pre-order a few weeks later. The Nexus 5X and Nexus 6P didn't start shipping until around October 23rd.
Following that trend we could see Google offer these phones for pre-order 1-2 weeks after October 4th, with the actual release date and in-store availability being the end of October. Along with new phones we can expect to see Google Daydream VR, Google Home, Google WiFi, a new Chromcast Ultra with 4K video support, possibly some new Android Wear smartwatches and more. Stay tuned for more details.