Google Pixel Release Date Breakdown
Google's all-new Pixel Phones are finally ready to be released and pre-orders are starting to ship. Announced on October 4th as the first phone made by Google "inside and out". We came away impressed in our review, and buyers will be happy once theirs arrive. Here we go over the Pixel Phone release details, pricing, color options and specs for potential buyers.
For those who don't know Google's new phone is pretty impressive. Two are available, the 5-inch Google Pixel, and a 5.5-inch Pixel XL set to replace the 2015 Nexus 6P. They run a brand new version of Android 7.1 Nougat with loads of custom features.
Read: Best Google Pixel and Pixel XL Deals
Google's new phones have a premium glass and metal design, big beautiful AMOLED displays, the latest technology and custom software. These aren't Nexus phones, they're "made by Google" and their vision of what a smartphone should be. Read on for more details.
For 2016 Google made a radical shift in their strategy for smartphones. Replacing the LG and Huawei-made Nexus smartphones with their very own device. Rather than only being sold unlocked on their own store, the Pixel Phones will be available at Verizon, the Google Store, and available around the globe.
Similar to last year the company released two phones, only this year they are both high-end devices. Catering to the entire market for those who want a big or small phone. Both have top-tier specs across the board, rather than one budget device, which is an approach we've seen from Samsung and Apple as of late.
Here's everything potential buyers need to know about the new Google Pixel and Pixel XL, the release date, pricing and more.
Google Pixel Specs
As expected, Google has two stunning phones that are nearly identical across the board, with one being much bigger. Completed by an all aluminum design, world-class camera, newest software, the Google Assistant and top-tier specs in three stunning colors. Here's the full breakdown for those interested.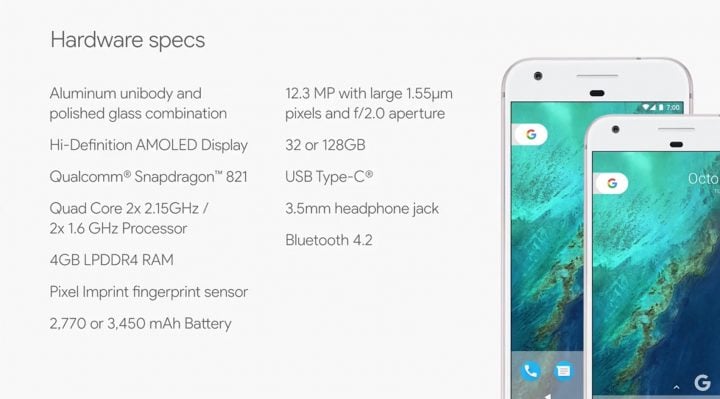 Google went as far as to say its new 12.3 megapixel camera with software image stabilization, 4k video, HDR+ and more is the best smartphone camera on the market. As in, better than the Galaxy Note 7 and better than the iPhone 7 Plus. It's a bold claim, and one that held up well in our review. It has a great camera that's extremely fast and accurate.
Google Pixel Phone Release Date
We don't have an actual date for the Pixel release date, but we do have more details for buyers. In previous years Nexus devices were announced in September or October, and released a little over a month later. For the Pixel though, Google is speeding things up a notch to better take on the competition.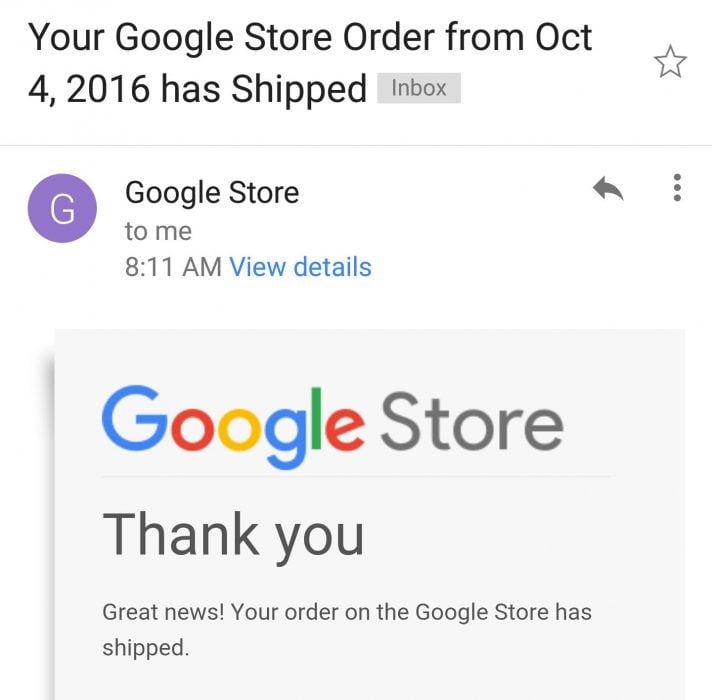 The company revealed both phones on October 4th and put it up for pre-order the same day. As of right now the Google Store is sold out of the Pixel XL completely, but is still accepting orders for the smaller variant. As of  October 19th pre-orders from the Google Play Store are shipping, as shown above. Some who ordered later in the day or the 5th may have to wait a few days before getting a shipment notice.
It appears that Verizon has already started shipping pre-orders too, which is good news for buyers. We'll update if we learn more from Google but all buyers need to know is orders are on the way.
Pre-Order Details
Similar to last year, Google started taking pre-orders right away. The Pixel and Pixel XL will be available exclusively in the US from Verizon Wireless, and unlocked for all other carriers on the Google Store. It also works on Project Fi, and many carriers around the globe. Both the Verizon and Google Store model is a worldwide global unlocked device. Meaning it has the hardware inside to work with virtually almost all carriers.
#Pixel is available for pre-order today in the U.S., Australia, Canada, Germany and the U.K. — India coming soon. #madebygoogle

— Google (@Google) October 4, 2016
For the first time ever Google's new phone is up for pre-order on the exact same day. Faster than any phone ever released. We still don't have an actual release date, but it's safe to say the 19th or 20th is the day.
Pixel Phone Price
Google's new Pixel Phone will be available starting at $649 or $27 a month. Mind you, this is for the 5-inch Pixel. The bigger 5.5-inch Pixel XL starts at $769 for 32GB of storage.
Google's new Pixel and Pixel XL phones come with 32GB of storage as a base, and are available with 128GB as well for those who need extra storage. This is a $100 up-charge. Buy it outright, payment plans from Verizon, or financing through Google.
Pixel Phone Color Choices
Rumors suggested multiple new colors would be available, and they were right, but not on which colors. Google's new high-end premium smartphone will come in three colors, but Verizon will likely only have two.
Those being Quite Black, Really Blue, or Very Silver as shown below. The Blue model is a limited edition, and will most likely only be available from the Google Store.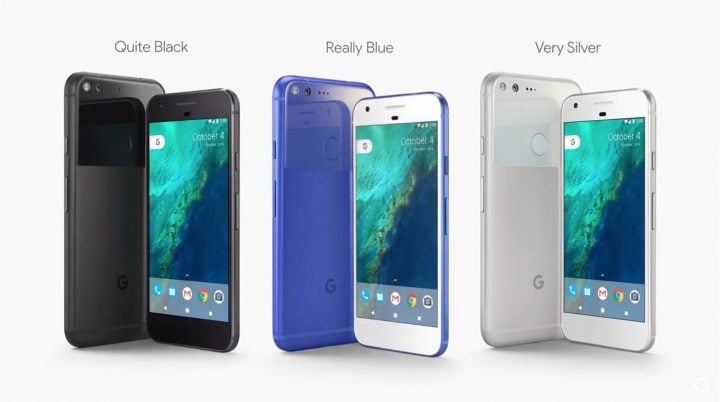 There were reports of a gold model, but that doesn't appear to be the case. Although it could be released later this year.
Carriers & Availability
In previous years Google's phones have always been available unlocked, or only supported select carriers like T-Mobile or AT&T. Verizon and Google never had the best relationship, but that's all about to change. Here's Verizon's unboxing of the new Pixel phone.
Both phones will be available exclusively in the US from Verizon Wireless, and they may even get the earliest release date too. Those aren't the only carriers though, and more details are below regarding that. Google didn't specifically mention any others, but all are supported by the hardware inside.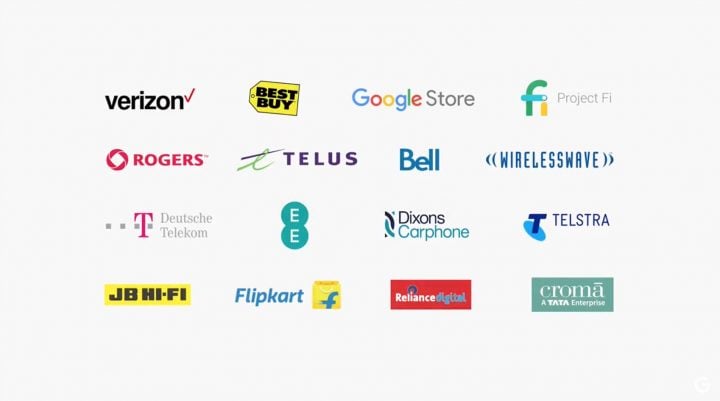 Both phones will be available unlocked with support for all major carriers. Most likely it will work on all US carriers, including Project Fi. As shown above, it will also be sold from various retailers, stores, and around the globe. Best Buy has a good deal on the Pixel.
Pixel Phone Accessories
Over the past few years Google has really stepped up their accessories lineup for smartphones and tablets. And while the Pixel was just announced and more will likely be coming, the company already has an entire lineup of beautiful cases. Below is just one Pixel Accessory of many to surely come.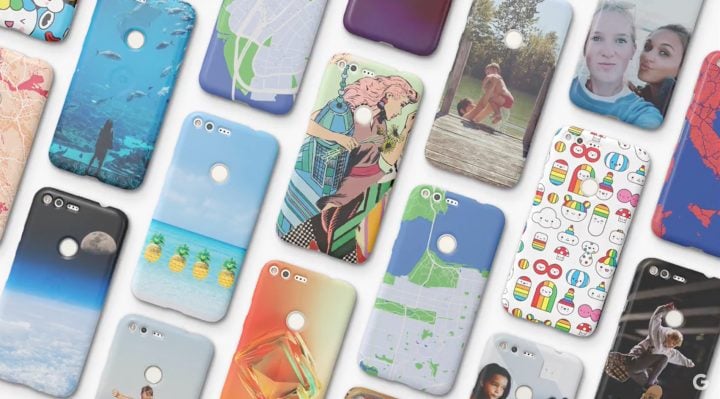 Google provides an adapter in the box to allow for easy and seamless transfer from iOS to Android or from another Android device. We can also expect a slew of chargers, accessories, screen protectors and more to be available on the Google Store eventually.
As more information comes to light during the release we'll update with more details. All buyers really need to know right now is the phone is up for sale, shipping this week, and could be the best Android phone of the year. Buy one today.
20 Best Google Pixel Cases to Protect Your Phone
Google Clear Case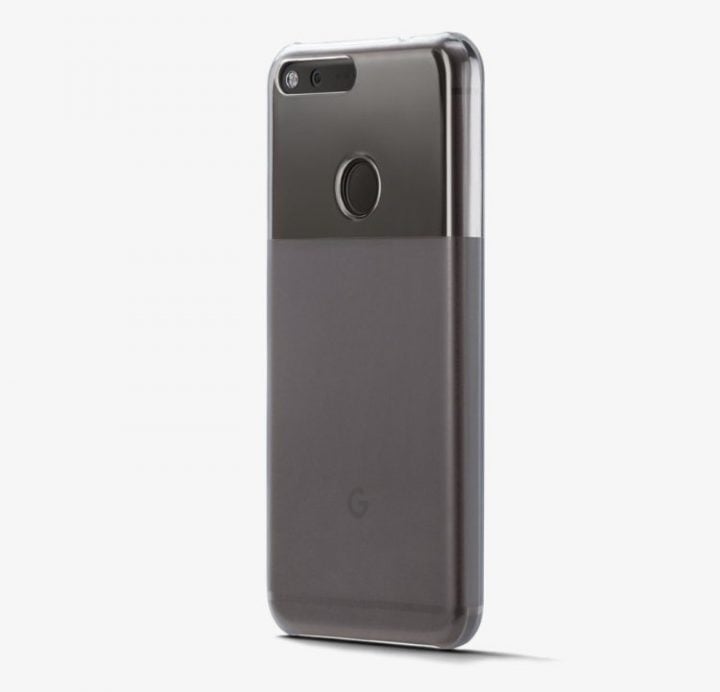 Getting a case from the phone maker themselves is often the best route to take. Google's clear cases show off the unique design, glass back, or that Really Blue Pixel model.
It looks like a standard cheap TPU case, but Google uses a hard durable polycarbonate plastic. There are precision cutouts for all of the ports, buttons, and sensors. This is a sleek and minimal way to protect the Pixel or XL. It's available now in the Google Store, but it's expensive.