Google Pixel XL Review: A New Generation of Android
Google's brand new Pixel XL is the most refined Android smartphone we've ever used. It's that good. Everything from the polished metal hardware to the smooth, fast and efficient software. It's Google's vision for Android perfected and available to all.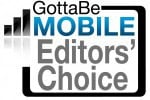 Pixel is the first smartphone made inside and out by Google — and it shows. While there are a few compromises to go along with the stunning premium design, it's without a doubt Google's best smartphone to date. By delivering a clean and fast experience on Android 7.1 Nougat, features other Android's don't have and one of the best cameras on a mobile device, it earned our GottaBeMobile Editors' Choice Award.
Buyers looking for a new Android smartphone or a replacement for the Galaxy Note 7 need to consider the Pixel. Our Pixel XL review will help you decide if this is the phone for you, if it's worth upgrading over a Nexus and what Google has done differently this time around.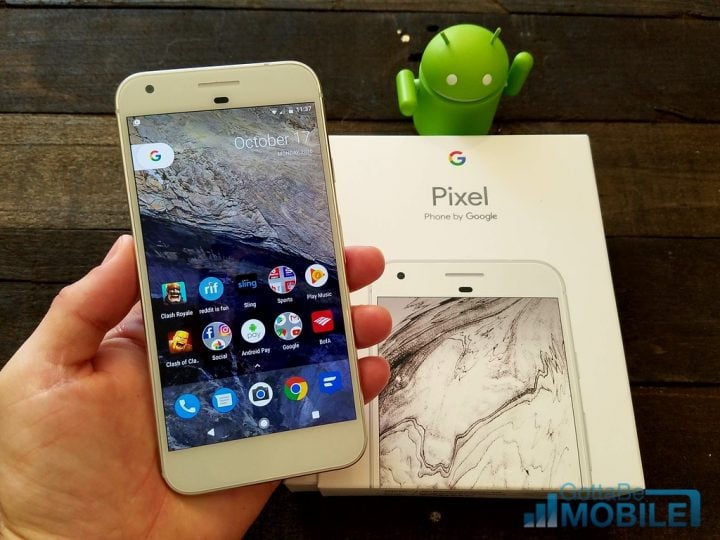 It's simple. Google made two highly capable phones with impressive displays. They feature premium metal designs, fingerprint scanners, excellent cameras and all-day battery life. Google also tailored Android exactly how they want it. By adding unique software features never before seen in Android, a new Google Assistant to make life easier and promising updates faster and easier than ever before. The result is a well-rounded phone we can recommend without hesitation.
There are some missing features as you compare the competition like the water-resistance found on Samsung or Apple. However, for many this will be the one and only Android worth buying.
What We Like: Premium build quality, better front and rear cameras, Google Assistant, Android 7.1 Nougat and impressive battery life.
What We Don't: No water-resistance, high price tag compared to past Nexus phones, no dual-front facing speakers, average and somewhat boring (or safe) design.
Bottom Line: Ultimately, the Pixel XL is Google's new biggest and best smartphone. It may not offer huge upgrades over the Nexus 6P or Galaxy S6/S7, but it's Google inside and out which makes it stand out in a sea of Android smartphones.
The Pixel is $649 while the XL is $769 off contract or $32.04/month for 24 months with Google Store Financing. Both models are available unlocked and support all major carriers around the globe. Buyers can also find it at Verizon in the US starting at $27 a month.
Pixel XL Design
Google's new Pixel and Pixel XL may not have the most exciting design on the market or push boundaries like Samsung or LG, but they're extremely well built. It resembles an iPhone to some, but that isn't necessarily a bad thing. The idea behind these phones is Google wants to truly compete in the smartphone market, and they will.
The more I use it, the more the design grows on me. The fingerprint scanner is perfectly positioned around back and easy to use. It's called Nexus Imprint and works instantly every time. The all-metal finish is smooth to the touch while rounded on the edges, making it one of the most comfortable phones I've ever held. The end result is as good as or better than Samsung, and matches the iPhone. This phone is extremely well made and you'll notice it the minute you pull it out of the box. It feels like a premium $700 phone.
As you can see Google went all metal on back, topped by an odd piece of glass housing the fingerprint scanner, camera and sensors. The idea behind the glass back is a two-tone finish and to avoid the ugly antenna lines we've seen from others. The front is made of plastic, but is covered in reinforced glass. It's available in Very Silver, Quite Black, and Really Blue color options.
My favorite aspect of the design is how the entire device subtly gets thicker near the top. It's designed to hide the camera hump and does. The camera sits flush against the body unlike other phones. The aluminum chassis slowly gets thinner and tapers off near the bottom. It's a neat idea and works well. Button placement is ideal and familiar, very tactile and again has a premium feel during use.
We only have a few complaints about the phone and its design as a whole. One would have to be the rather large bezels above and below the screen. With the front-facing speakers no longer included, bezels should not be this big. Then there's the speaker.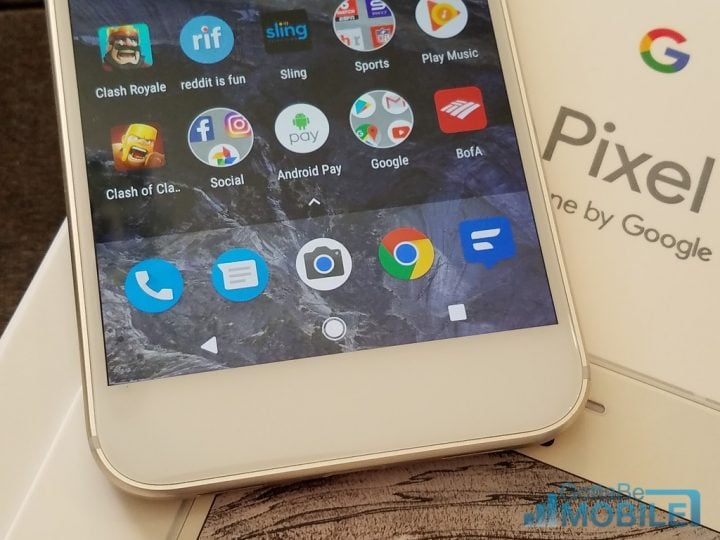 The single bottom speaker sounds great, it's loud and crisp, and is arguably one of the best speakers in any phone. As long as you don't cover it with your hand. It's on the bottom left and while watching YouTube in landscape view or playing Clash Royale, our hand completely covers and mutes any and all sound. This was a complaint many had with the Galaxy S6 or S7, but it's even worse on Pixel. Next year, bring back the front-facing speakers. At the same time, there is no notification LED light.
Pixel XL Display
The company really delivered when it comes to the screen on the Pixel XL. It rocks a 5.5-inch 2560 x 1440 Quad-HD resolution. It's bright, crisp, clear and vibrant. Colors are stunning due to the AMOLED panel. The Pixel XL screen is a little smaller than the Nexus 6P last year, but it's barely noticeable yet much easier to hold and use.
As a result, brightness is never an issue, even outdoors, and text is extremely crisp. On old Nexus devices the screen was always a weak link and that isn't the case this year. I'd go as far as to say the Pixel XL screen is better than the Galaxy S7 Edge. The smaller Pixel is 5-inches and has a 1080p resolution.
We still have adaptive brightness or ambient display which wakes the screen on incoming notifications. However, there's no Always-On Display which has been popular for other manufacturers. Running 7.1 Nougat and a custom version of Android built just for the Pixel, there are some new display features, too.
In addition to a great screen, Google added a feature called "Night Light" for those who use their phone in bed. Night Light tints the screen red making it easier to see and read at night, causing less eye strain, and possibly helping users fall asleep easier. Basically, this feature removes all the bright blue colors. It's set to turn off/on at sunrise and sunset, or can be customized by time of day. It's a small addition, but a welcomed change. All that said, the Pixel XL has one of the best screens available in 2016.
Pixel XL Camera
While I'm no professional, the camera results from Google's new 12.3 megapixel sensor in the Pixel XL will make me feel like one. The best camera you have is the one in your pocket. Google claims it's the best smartphone camera in the world, but we'll need to do a lot more testing to back that claim up.
So far, our results have been nothing short of impressive. Double tap the power button to instantly fire up the camera. It focuses insanely fast and produces excellent and accurate photos almost every time. Especially in low light. The fast focus and white balance really shines. What makes a camera good is being able to get consistent results with ease. We can confirm that's the case with Google's phone.
And while it still doesn't have optical image stabilization, the large 1.55μm sensor captures plenty of light and detail. The camera is insanely fast, has improved features and a full pro mode is finally included in the stock Google camera app. Long-press the shutter for burst mode and Pixel intelligently blends them together to form a short video. Not to mention, suggesting the best and most clear photos automatically.
More noteworthy, the Pixel XL software image stabilization was exceptional while recording video. Everything from 1080p video to full 4K is crisp, smooth and looks great. There's no blurring caused by software or jitters while walking and recording video. Google put in a lot of effort to improve the camera experience, and it's extremely noticeable. Here are a few samples for now.
We'll update with more details and samples once we have more time to fully test this camera. It already received the highest DxOMark score in history. So rest assured knowing if you buy the Pixel, you'll have one of the best phone cameras on the market.
Additionally, Google added some new controls like we've seen from Motorola. Twist your wrist twice to quickly switch from the rear to the front facing camera, then snap photos with the new and improved 8 megapixel front selfie camera. These little software additions never made it into Nexus phones, but Google has a different approach with the Pixel. It's a winning combination.
Pixel XL Specs
A lot of users just want a stable phone at a decent price. One that can take good photos and receive fast updates. The Pixel is all of that and more. However, if you're looking for the full spec sheet, here it is. This has the latest cutting edge hardware and software here in late 2016.
5.5-inch 2560 x 1440 Quad-HD AMOLED Display
New Snapdragon 821 processor with 4GB of RAM
32 or 128GB internal storage (no micro-SD slot)
Android 7.1 Nougat with Google Assistant
12.3 Megapixel Camera (1.55 um), Laser auto-focus, 240 FPS Slow-mo, more
8 Megapixel front f/2.0 camera
Rear Fingerprint Scanner
3,450 mAh battery
Rapid Fast Charging
USB Type-C port
Aluminum Design
As you can see, some of the specs are similar to devices we've seen in the past, but there are a few important differences. There's no longer a 16GB model, with 32GB being default even for the smaller Pixel. 128GB is available for those who need more storage for an added $100. Then of course, there's the large 3,450 mAh battery with fast charging. Sadly, there's no wireless charging and no IP67 dust or water resistance; two key features the competition offers at a similar price point.
Pixel XL Software
For starters, this is the first phone where both the hardware and software were made under one roof. Well, HTC built the hardware, but it was all Google. The search giant had total control of both aspects similar to Apple with the iPhone. The end result is a slick experience, butter smooth software and fast performance ending with truly excellent battery life. It's how Google envisions Android, rather than manufacturers like Samsung or LG changing everything. This could be the fastest Android phone I've used to date. Maybe it's the new technology under the hood, maybe it's Android 7.1 Nougat, or just the level of control Google now has. In any case, it works, and works well.
Next, an important aspect of the Pixel is the software itself. Rather than running Android 7.0 Nougat which was released in August, it has a completely new and improved version of Android 7.1 Nougat exclusive to the Pixel, for now at least.
With features like the Google Assistant, Pixel Launcher, Night Light, Icon Shortcuts on the lockscreen and even a 24/7 customer support and help toggle right in the settings panel. Google made some big changes to differentiate it over other Android devices, and even Nexus phones.
This has some loyal Nexus users frustrated, but over time we have a feeling most of these features will merge into stock Android for devices like the Nexus 6P. Before we begin, it's worth looking over our Android 7.0 vs Android 6.0 Marshmallow. Android 7.1 Nougat on the Pixel is the same great experience, with the additions mentioned above.
Read: Android 7.0 Nougat vs Android 6.0 Marshmallow: What's New
With the Pixel, it's the subtle things the company has added, not to mention refinements present in Nougat. For example, wide fullscreen notifications on the lockscreen and bundled notifications in the pulldown bar for a cleaner look. Reply in-line right in the notification shade and more. The settings menu is familiar yet more informational with small details under each main category. There are even suggestions for settings you may find helpful. We love the new multi-tasking and split-window mode. Being able to run two apps simultaneously is something we've enjoyed on other phones, now built right into stock Android.
However, there are three things we wanted to point out specifically about the Pixel or Android 7.1 Nougat. Aside from the regular changes delivered with Android N, is a new thing called "Moves". This allows gestures like double tap power to launch the camera, or a down swipe on the fingerprint scanner to access the notification bar with one hand. Little additions on top of stock Android that make Pixel feel more like a premium phone worth buying.
The lockscreen and homescreen wallpapers can be changed together or separately, and Google has new "Live Wallpapers" that are different from past live wallpapers. Instead, they move very subtly when you unlock the phone, and never truly hold still. They give a lively feeling to the device unlike anything we've experienced before. Again, it's the little things throughout.
Last but not least is the Google Assistant. An evolution of Google Now, the Assistant looks to make our daily lives easier with a real, personal virtual assistant. Similar to Siri but with the power of Google Search, machine learning, artificial intelligence and more behind it.
Similar to Google Now or Google Search, it can check your calendar, tell you the weather, give directions, share information about nearby restaurants and more. Although, as you saw in the video above, it's much more personal. It will carry on a conversation with you, get reservations for dinner, give you reminders, and learn as you use it. The Google Assistant is the future of how we interact with our smartphones. This is v1.0 so to speak, just the beginning of a much bigger picture.
As of right now, the Google Assistant isn't quite as useful as we expected and feels more like a solid upgrade to Google Now. It's still extremely helpful, though. Powerful and amazing at times, and always ready at the long-press of your home button. Your very own personal assistant is always just a tap away.
Launcher Shortcuts are Google's answer to 3D Touch on the iPhone. Apps can now be designed with shortcuts for when we long-press the icon on our homescreen. Google's integrated this into their suite of apps and are working with developers to offer even more.
Long-press the camera icon for options to instantly record video or take a selfie, or just tap to open the camera. Why open the text messages app and fumble through contacts to send a message? Long-press on Pixel to get a preview of your recent conversations and instantly open the app directly to it. Get things done faster with Android, on Pixel.
Pixel XL Battery Life & Fast Charging
As we said above Google controls both the hardware and software this time around. That means further performance enhancements and battery saving efforts could be made, and they were. The Pixel XL may be the new battery life king. Topping the well-received Galaxy S7 Edge across the board.
With a 5.5-inch Quad-HD display and a powerful processor, some were concerned a 3,450 mAh battery wasn't enough. The Galaxy S7 Edge has a 3,600 mAh battery. However, the Pixel appears to be a winner in our early testing. Between Android 7.1 Nougat using Doze to put apps to sleep when not needed and the fine-tuning done by Google, it's a winning combination.
Above is our first day with the Pixel XL. Setting up the fingerprint scanner, downloading some apps, making a quick call, sending some text messages and more. I played some games, watched a little YouTube and even listened to some music. After 24 hours, including sitting overnight, we had nearly three hours of all important screen-on time, yet still had 61% battery life remaining. Rather than having to recharge or plug in before bed.
Usage was average, and not heavy like a typical day for me, but the Pixel actually lasted a full two days on a single charge. And while I doubt everyone will get 48 hours on a single charge, it's clear the Google Pixel is on somewhat of another level in terms of battery life or drainage.
So far our early results are extremely positive, and we'll add more throughout the week as we continue using Google's new phone.
As for charging, the Pixel XL is extremely fast. It uses USB Type-C so it's reversible and can be plugged in either direction. It also allows for fast "rapid" charging and higher power levels.  Our Pixel XL went from 29% to 100% in just 47 minutes as shown above. When it's under 50% Google promises 7 hours of usage after just 15 minutes on the charger. The Pixel recharges as fast or faster than any phone on the market.
Final Thoughts
All that really needs to be said is the Pixel is Google's best smartphone ever released and a new generation of Android. It's made by Google "inside and out" and that actually means something. While it may not have a wallet friendly $499 price tag like past Nexus devices, it is in a completely new league in terms of camera performance, battery life, feature set and especially updates. Pixel uses Google's new A/B automatic software updates, meaning new releases of Android 7.1, 7.2, or 8.0 "O" will download behind the scenes, and apply during your next reboot. Everything is done for you, seamlessly. The Pixel will run the latest version of Android before all other devices. That alone is a reason to buy it for some.
There are a lot of excellent choices here as 2016 comes to a close, and the Pixel XL should be right at the top. It's a great alternative to the iPhone 7 or Galaxy S7 Edge. Not to mention perfect for someone who just returned the Note 7. If it's too big, consider the 5-inch Pixel. It's nearly the exact same phone but with a more compact 1080p HD display.
You may not have Samsung Pay, wireless charging, IP67 water-resistance or modular accessories, but you have the latest and greatest directly from Google. Would you rather be protected in case of accidents like water, or have the latest software and security updates non-stop? Do you want bloatware and features you'll never use, or pure and powerful Android right from Google? It all comes down to personal preference.
At the end of the day Google has put together a very well-rounded smartphone that should give Samsung and Apple a run for their money. It's a solid first effort, an entirely new type of Android from the creators themselves. Yes, the Pixel may not check every box on your list, but it has all the makings for a premium flagship smartphone. My 128GB black model should be here soon. We can't wait to see what Google does with the Pixel 2. And remember, this is just the beginning of the Pixel phone story.
20 Best Google Pixel Cases to Protect Your Phone
Google Clear Case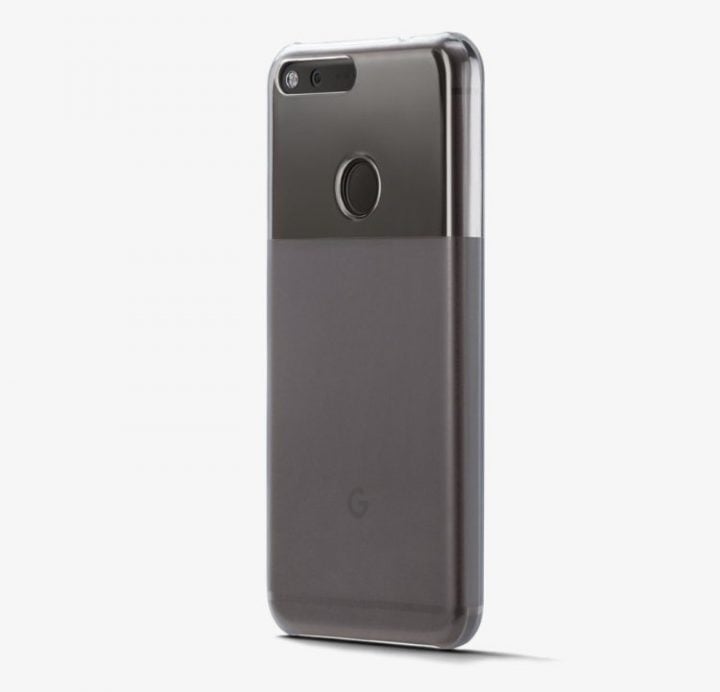 Getting a case from the phone maker themselves is often the best route to take. Google's clear cases show off the unique design, glass back, or that Really Blue Pixel model.
It looks like a standard cheap TPU case, but Google uses a hard durable polycarbonate plastic. There are precision cutouts for all of the ports, buttons, and sensors. This is a sleek and minimal way to protect the Pixel or XL. It's available now in the Google Store, but it's expensive.