Google Plans to Sell 8 Million Second-Gen Nexus 7 Tablets Starting July
In a new report revealing Google's target numbers for the second-generation iteration of its Nexus 7 tablets, the Internet search giant is said to aim for sales of 8 million slates beginning this July through the end of the year. Previous rumors surrounding the Nexus 2 7-inch slate had placed the tablet's debut this May when it would be announced at the Google I/O developer conference with sales to follow the announcement.
This is the first time that we're hearing sales projection for Google's tablet lineup. The company has thus far not disclosed sales figures for its original Nexus 7 tablet, which was highly popular given its affordable pricing and was frequently found out of stock on Google's Play Store.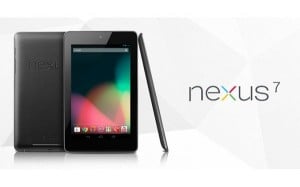 Reuters is reporting that Google will continue to aggressively price the 7-inch slate. The original Nexus 7 tablet debuted with a quad-core Tegra 3 CPU from NVIDIA and a good 1280 X 800-pixel resolution display. The new tablet would improve on some of those specs, including swapping out NVIDIA's processor for an un-named Qualcomm chip. The reasoning for going with Qualcomm, according to source to the publication, is for power reasons.
Given the decision to go with Qualcomm, there are several potential options at the high-end of that spectrum–a Snapdragon S4, a Snapdragon 600 CPU, or a Snapdragon 800. The latter two options would keep the new Nexus 7 more up to date and the always-on voice capabilities of the Snapdragon 800 CPU may allow Google to better leverage its Google Now voice search, allowing for the company to better learn and understand users' Internet behaviors on a mobile computing device.
It's also been previously rumored that Google may bring a full 1080p HD resolution display to the Nexus 2 7-inch.
Google has still not decided on a pricing model yet for the tablet. One scenario, according to sources, would have Google pricing the new Nexus 7 at $199, taking the place of the older tablet's entry level price. The old tablet may be sold alongside the new tablet, but at a discount. Another more aggressive approach would be pricing the new tablet at $149 and discontinuing the old model.
The new tablet would compete against Amazon's affordable Kindle Fire slate, Apple's iPad range, and Samsung's Galaxy Tab lineup.
Google may be able to drive prices further down with its hardware as it doesn't intend on making money on sales of the Nexus 7. Instead, the Nexus 7 may be another billboard for Google to place ads on, and the company can generate future revenue to offset any losses incurred on the hardware side by delivering ads to Nexus 7 owners, a strategy that Amazon had experimented with through ad-subsidized models of the Kindle line.
With the second-generation Nexus 7, it's reported that Google will once again partner with Asus in launching the new model.

As an Amazon Associate I earn from qualifying purchases.